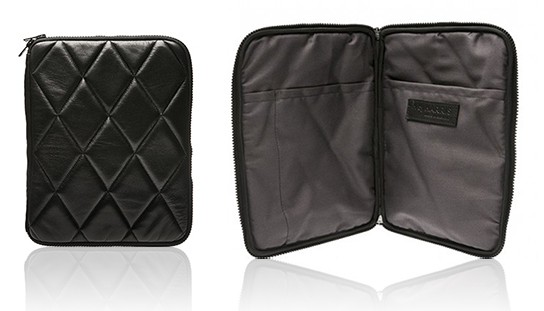 (image credit: H by Harris) H by Harris Quilted Leather iPad Case | £165.00 | www.hbyharris.com
black speaks of sophistication and quilted leather exemplifies classical luxurious style which is what the black quilted leather iPad case from H by Harris represents. we have seen countless leather iPad case but this one stands out from the leathery crowd. this H by Harris item features a double black zip side closure, one narrow oblong pocket and two large internal pockets, and of course, slapped with a handsome designer's plague. the exterior is of 100% leather and the interior, cotton twill lining.
H by Harris Quilted Leather iPad Case measures 11-inches by 8.5-inches and retails at £165.00 (about US$266) from Browns online store. not exactly cheap, but that's the price of luxury – just in case you don't already know. if the quilted leather iPad case isn't enough for the quilted leather lover folks, H by Harris has a collection of quilted leather goods including laptop case, backpack, tote, weekend bag and an very unique jacket that has a zip-on backpack on its back.