designers and CAD engineers who wished to go untethered, and work in the place of their choosing has something to look forward to: the MSI WS60 Mobile Workstation. this 15.6-inch workhorse may not the sleekest of the lot in the market (still pretty, nonetheless), but it will sure get the most intense design or CAD job done, well, at least that's what the specs are telling us. powered by Intel Core i7-4710HQ processor with clock speed ranging from 2.5-3.4GHz, the WS60 is offered in two flavors: one with 3K display (2OJ 3K-004US), boasting 2,880 x 1,620 pixels and one with Full HD display (2OJ-006US). both models are equipped with NVIDIA Quadro K2100M 3D graphics card with 2G VRAM to handle the most demanding graphics duty.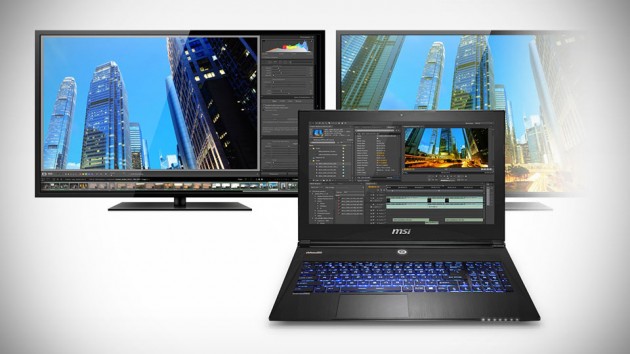 other common features include 16GB DDR3L 1600MHz RAM, Killer Gaming Network, wireless ac, SD card reader, USB 3.0 ports, HDMI 1.4 output, Thunderbolt 2 connectivity, FHD webcam, Dynaudio Tech Speakers with subwoofer, SteelSeries full-color backlight with anti-ghosting key, click pad, and a dual fan setup for maximum heat dissipation. the WQHD+ model comes with Super RAID setup comprising of a 128GB SSD and one TB HDD, while the Full HD model comes with 128GB mSATA plus a Terabyte HDD. the mobile workstation weighs in at a little under 2 kilograms (4.36 lbs) and has an impressively thin profile of 0.8 inches.
with the WS60, MSI ditches the traditional boxy design of mobile workstation and instead, draws its design inspiration from the firm's line of gaming notebook, boasting a full metallic body with MG-Li alloy parts for durability and visual appeal. uhmm, almost. we will appreciate if it doesn't come in dark shades, which is usually a hallmark of business machines, but then again, that's just us. pricing-wise, the Full HD model goes for $2,299.99, while the 3K model costs $300 more, at $2,599.99.