I don't want to tell you how great or not the display of the Samsung Galaxy Z Flip4 is. If you haven't already gotten into folding phones and want to do so, perhaps you may want to read what I have to say first. This is my quick long-term take on the Samsung Galaxy Z Flip4 by a real user whose digital life depends on it with a device NOT supplied by Samsung.
It has been almost 5 months since I received the Samsung Galaxy Z Flip4 and believe it or not, I already made one warranty claim last month (December 2022). The screen quit on me. For the record, the faulty screen was not due to rough handling or impact. The secondary display still works and technically, the main display also works – if I open it no larger than 60-degree: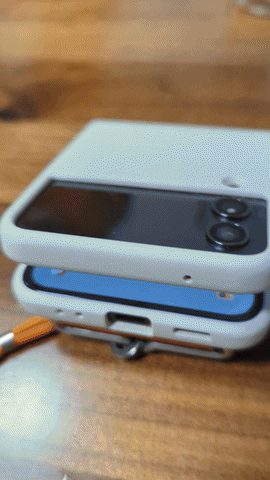 Beyond that, the screen just turned off while everything else is functioning. I still can hear notifications and if I touch the display, it still works just that I cannot see what did I do. Like, I am not sure if the touch has fired up the app or did what action. I should not be surprised (that the screen breaks). It is a folding display and when electronics get folded, it can't be good in the long run. You know how it is. Sometimes, some things get loose after being repeatedly folded and unfolded. It's no rocket science.
My wife is using the Z Flip3. She has had it for over a year now. It was not flawless either. The stock screen protector that protects the UTG peeled off in less than a year (a known problem, btw) and the device has been plagued by a cranky microphone. The other party does not seem to be able to hear me clearly unless I use a pair of headphones or am on speakerphone.
Anyhoo, this isn't about the Z Flip3. I brought up the Z Flip3 to let you have a gauge of the quality of Samsung. It is sufficient to say, it isn't the best given that it is a flagship device. The build and materials used are good but Samsung has to work on the QC.
The display is the biggest concern next to the durability of the folding mechanism. The 120 Hz adaptive refresh rate display was a joy to use. It is buttery smooth with both One UI and my preferred launcher, Niagara Pro.
As for the inevitable fold line… it is there alright but it is a tad less obvious than the 3, IMHO. However, the 3 is over a year old and the 4 is just under 6 months old. TBH, though, you will slowly get used to the fold line. Your brain will start to ignore it. Well, that's until you touch it, especially when scrolling through stuff.
This is where the quandary of life I guess because the folding screen is what draws me to the Z Flip4 in the first place and as much as I get all OCD about a fold line on the screen, I have to live with it (and I did and still doing). Having a folding phone, or in this instance, a flip phone, allows me to have a decently large display without the need for a cavernous pocket to contain it.
It is bliss that you will only know once you started using it. It is hard to go back to a regular phone, TBH. I can wear a pair of sports shorts and go for a run with the phone in my pocket without worrying that it will fall off when I am running or when I am seated.
Another pro, IMHO, is that I find my screen time on the phone has lessened significantly. I am not sure why. Perhaps I find it a hassle to flip open the phone, or it was me subconsciously trying to fold it less for fear of deepening the fold line or shortening its folding lifespan. Or perhaps it was the secondary display that allows me to quickly check the notifications that reduces the time I need to use the phone.
The processor was a good choice too. I never had the heat issue with Snapdragon 8+ Gen 1 and the battery life was decent. However, power users may find it barely enough for all-day use. As for me, the less screen time I have so far, it can last me the entire day. The camera is good but not the greatest.
The dual 12 MP snappers take awesome stills even when in overcast conditions. Video, though, leaves much to desire. The front 10 MP selfie camera is not the best, IMHO. It is grainy in slightly less-than-bright environments. But honestly, if you are getting this phone, imaging is probably not your priority. I would say convenience and ease of carrying are the priorities of people who want a flip phone.
Overall, it is a good phone, barring the QC which is kind of a hit-and-miss. Get it if you want a device with a powerful chip that runs cool and is easy to carry around. But be warned. You may never go back to a regular phone again.
If my "alarming" review about this latest touchscreen flip phone Samsung has prepared you to own one, then you may want to know that the Samsung Galaxy Z Flip4 is available, factory unlocked, on Amazon.com for 15% less, at US$849 for the 128 GB version.
Readers support this website through ads and affiliated links. As such, we may earn a small commission – at no extra cost to the reader – if a reader clicks through and makes a purchase.
Images: Mike for Mikeshouts.