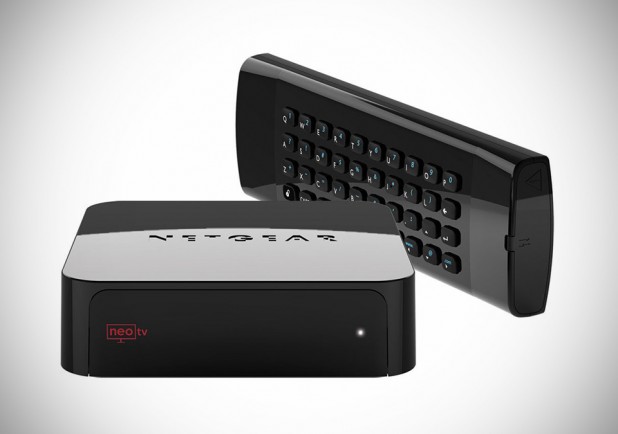 NETGEAR NeoTV Steaming Players | from US$49.90 | www.netgear.com
as much as we like the idea of keeping the model name the same through the different generations of a gadget, it does create some confusion but be reassure that the NETGEAR NeoTV Steaming Players featured here are new stuff coming out from network hardware specialist, NETGEAR. these new media streamers employ HTML 5, HLS, as well as digital rights management tools such as Microsoft PlayReady to provide access to hundreds of HD streaming channels. basically, you still get to stream movies/programs from popular content providers including Netflix, Vudu, Hulu Plus, YouTube, Pandora, Rhapsody and among the many others, to your lovely TV in full 1080p HD with 5.1 Dolby Digital Surround Sound. general features include built-in WiFi, Ethernet port, remote control with one-touch Quick Start buttons, and an optional free remote control app for Android and Apple devices, turning the respective devices into a simple touchscreen remote for your NeoTV Streaming Players.
there are three models in this latest generation of streaming players: the NeoTV (NTV300, US$49.99), the NeoTV PRO (NTV300S, $59.99), and the NeoTV MAX (NTV300SL, $69.99). the PRO model includes everything the basic streamer has, plus the added advantage of Intel's Wireless Display (WiDi) for wirelessly display your laptop screen, videos, photos, music, web content et cetera on your TV. it is also equipped with an AV port to enable the PRO to hook up with TV that does not have HDMI ports. sitting on the top of the food chain is the NeoTV MAX that offers the ability to play personal media off external hard drives, USB flash drives, and DLNA media servers and supports 3D movies streaming from Vudu to your 3D-capable TV. the MAX comes bundled with an advanced remote control with the usual navigation buttons on one side and a full QWERTY keyboard on the other for ease of inputting text for search query.