Apple, the once most valuable tech company, has announced a barrage of gadgets during its September event earlier today. The anticipation was for the next-generation iPhone 6 and also the rumored iPad Pro. Well, those two were announced, all right, along with some accessories for the two, an all-new Apple TV, new Apple watch finishes and bands, as well as a Apple Watch Hermès Collection for those who demands designer style for a smartwatch. Watch OS2 was announced too, but I am guessing most would be more elated by the hardware news.
Apple's latest smartphones are, as expected, aesthetically identical to the current 6 and 6 Plus and also as expected, they are called 6s and 6s Plus. aesthetically-speaking, they may be the same, but under the hood, it is mostly not the same and it starts with a more powerful, custom-designed 64-bit A9 processor that boasts up to 70 percent faster processing performance and up to 90 percent faster graphics performance. The M9 motion coprocessor that's responsible for your fitness data and such is now integrated into the chip and hence, it is now always-on. So I am guessing, you will be getting faster data and more accurate data crunching.
The new devices also gets a new generation fingerprint sensor that's said to a lot quicker. The highlight is, however, the 3D Touch feature, which basically senses how deeply you press the display to offer different functions. For example, a light hold lets you have a sneak preview of a text message without actually opening, while a hard press, opens up the text message. While on light press and hold, you can even swipe up to execute some quick actions such as replying the message. Display aspects, the 6s gets a 4.7" Retina HD display, packing 326ppi and the 6s Plus retains the same 5.5" FHD display with 401ppi.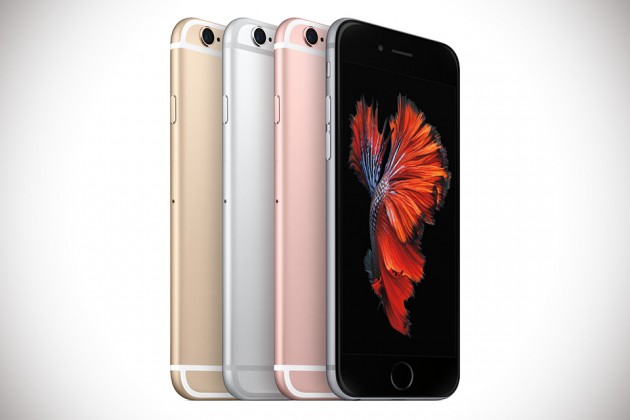 According to Apple, a new type of glass of stronger quality is being used in the new phones, and so is the aluminum, which is now of 7000 series aluminum – "the strongest alloy" Apple have used on an iPhone. Also in the imaging department are a 12MP iSight camera, which boasts 4K videoing, and a 5MP FaceTime HD camera that leverages on the Retina display for selfie flash (Retina Flash). The latter involves flashing the display to provide added light for selfie in low-light condition. Last but not least, the new handsets are blessed with faster LTE, and of course, faster WiFi.
The new handsets will be available for preorder starting this Saturday, September 12 and sale will kicked off two weeks later in September 25, 2015 in select countries including Australia, Canada, China, France, Germany, Hong Kong, Japan, New Zealand, Puerto Rico, Singapore, the U.K. and the U.S.A. Prices and configuration remains unchanged with the 16GB 6s going for $199, $299 for 64GB and $399 for 128GB model. As for the 6s Plus, it will cost 100 dollars more across the board. And oh, there's a new finish announced too and that's Rose Gold.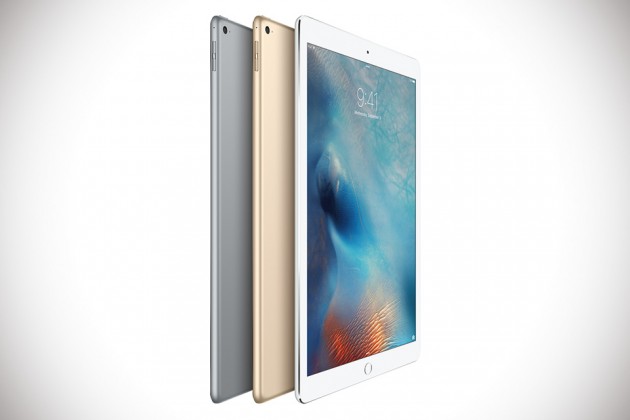 Also announced is the much rumored huge-ass iPad, which as you have read, measured a massive 12.9-inch. Called iPad Pro (duh!), it comes outfitted with an eye-watering Retina display boasting 2,732 x 2,048 pixels. The Pro is driven by a third-generation 65-bit A9X chip and is super thin, measuring a mere 6.9 inch and weighs about the same as the original iPad, tipping the scale at 1.57 lbs (713g) or 1.59 lbs (723g) for the WiFi + cellular model. It is the first iPad to be equipped with four speakers that will automatically adjust the output in each speaker based on how you hold the slate.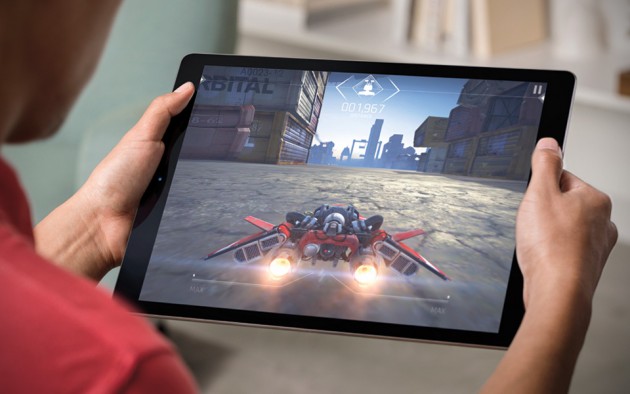 Also packed into its delightful slim form is a 10-hour 38.5Wh battery, along with a 8MP iSight camera, a 1.2MP FaceTime HD camera, dual microphones setup, 802.11ac with MIMO, up to 150 Mbps LTE (for WiFi + cellular model, of course) and Touch ID. Also new to the iPad is smart connector which allows accessory to be added without the need for the accessories to be self-powered and any form of wireless connectivity. Speaking of smart connector, Apple also took the opportunity to introduced a smart keyboard, a cover and keyboard hybrid for the iPad Pro, which leverages on the smart connector to provide users with a convenient cover and physical keyboard.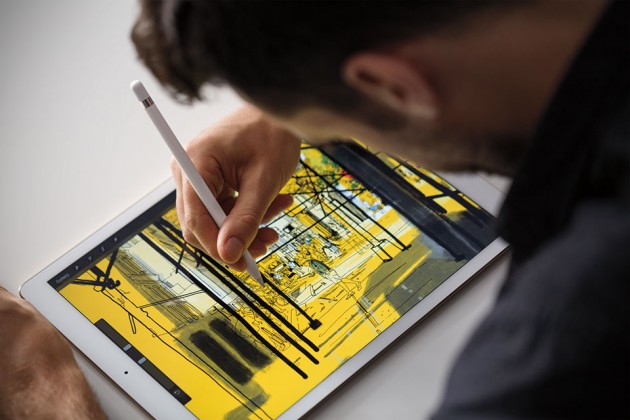 Another accessory introduced is the Apple Pencil, Apple's very own powered pressure-sensitive stylus, which supposed to make "drawing and sketching feel remarkably fluid and natural." Apple iPad Pro will be available starting in November in three finishes: silver, gold and space gray. As for the pricing, it starts at $799 for the 32GB WiFi model and $1079 for the WiFi + Cellular 128GB model.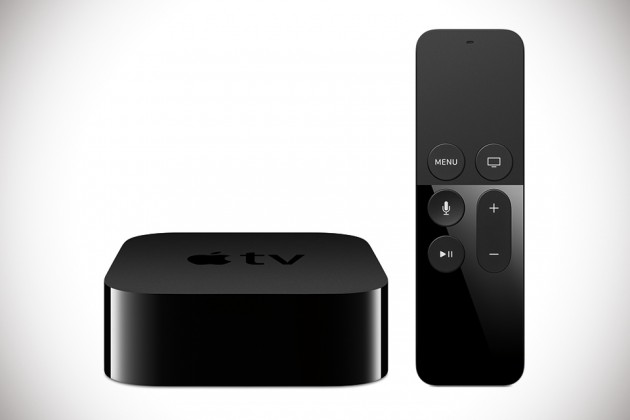 Up next is the long overdue update to the Apple TV. The all-new Apple TV looks like its predecessor, but only thicker and now comes standard with gesture and Siri support, thanks to the new Siri Remote. Also touted is tvOS, along with AppStore for installing apps on the Apple TV. And yes, you can now play games on Apple TV and even online shopping too.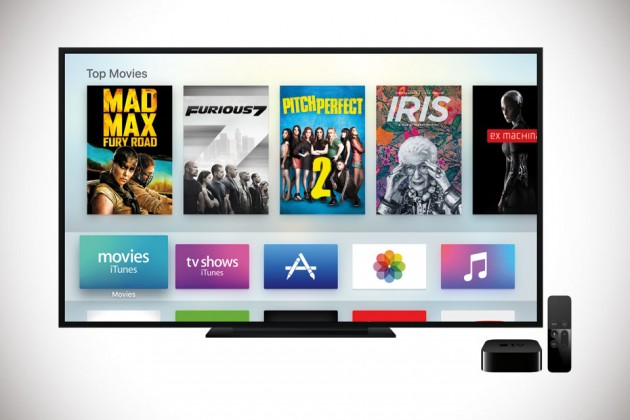 Obviously, the star is the remote control, which basically takes the pain out of using Apple TV (current Apple TV users will likely to agree with me on this). It features Bluetooth 4.0 connectivity and is packed with accelerometer and gyroscope that affords motions for gaming and such, and a built-in rechargeable battery that last up to 3 months per charge. Charging is via a Lightning connector found at the bottom of the remote. Finally, there is the touchpad that allows easy navigation of the spanking new and pretty tvOS and and of course, volume control buttons. The all-new Apple TV is set hit the shelves end October, starting at $149 for a 32GB model and $199 for a 64GB model. If you're a developer, Xcode beta for developing tvOS apps is available today.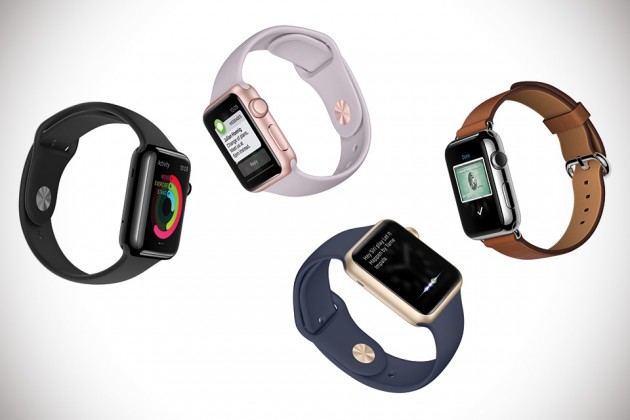 And now, Apple Watch. Two new finishes were introduced: gold and rose gold, as well as a (product)red model, which comes with signature red wrist bands. The gold and rose gold models come standard with fluoroelastomer Sport Bands in a choice of hues, including lavender, antique white, stone and midnight blue. And if you care to know, Apple Watch Sport silver has a couple of new bands too, in orange and blue, while the stainless steel models gets the options of two-toned Classic Buckle in black or saddle brown.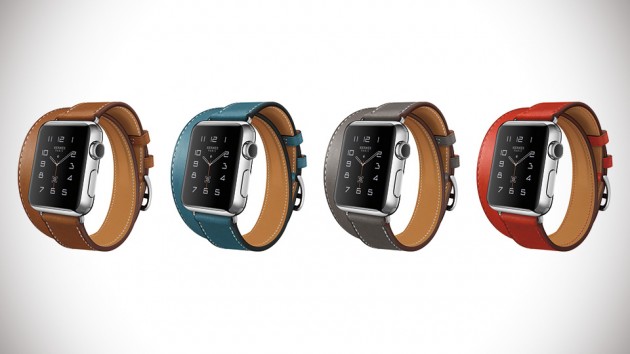 There's also the Apple Watch Edition in 18-karat rose gold, matched to a midnight blue Classic Buckle. Fashion-obsessed gadget lovers may want to take a look at the Apple Watch Hermès Collection, which features a stainless steel case with finely crafted leather as crafted by Hermès. Three band designs will be offered: single tour, double tour and cuff.
"The Single Tour with the 38 mm stainless steel case comes in fauve Barenia leather, noir box leather and capucine Swift leather, while the Single Tour with 42 mm stainless steel case comes in fauve Barenia leather and noir box leather. The Double Tour pairs with the 38 mm stainless steel case and is available in fauve Barenia leather and bleu jean, capucine and etain Swift leather. The Cuff pairs with the 42 mm stainless steel case and is available in fauve Barenia leather only. Across the collection, each stainless steel case features an etching of the Hermès signature and includes a customizable face with three exclusive dial designs inspired by Clipper, Cape Cod and Espace Hermès watches."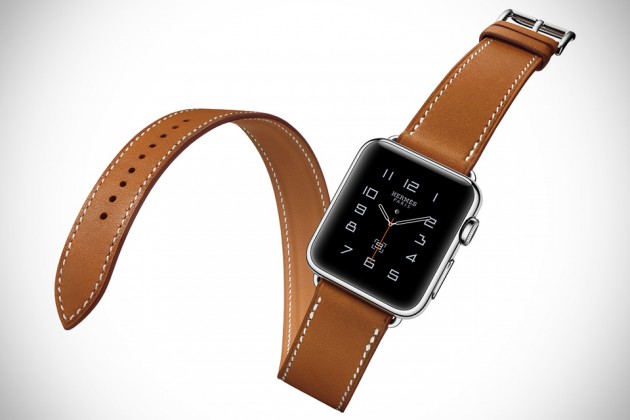 The Apple Watch Hermès Collection looks pretty classy, I must admit, but if are eyeing on one, then you'd be prepared to shell out good money for a pair and we are talking about $1,100 for the 38mm stainless steel case with Single Tour, $1,150 for the 42 mm stainless steel case with the Single Tour, $1,250 for the 38 mm stainless steel case with the Double Tour and $1,500 for the 42 mm stainless steel case with the Cuff. Look out for them starting this October 5 in Apple retail stores, select Hermès stores, speciality stores and department stores in select countries including Australia, Canada, China, France, Germany, Hong Kong, Italy, Japan, Korea, Russia, Singapore, Switzerland, the U.K. and of course, the U.S.A.
Well, there you have it. Another wave of products from the world's biggest tech company that aims to coax your hard earned money out of your bank account. So, what's your favorite? And would you really splurge a grand or more for a designer-touched smartwatch like the Hermès collab? Let us know in the comment section below.