This is probably a difficult time for camera makers, especially those who used to dominate the point-and-shoot segment. Which means camera makers cannot get away with bare minimal entry-level shooters because most smartphone can not only do just as well, but boasts a host of built-in apps that could enhanced your photography experience. Still, a full-fledge camera has a lot of potential which, at this point, smartphone can match up, as proven by Nikon latest interchangeable mirrorless camera, Nikon 1 J5. Being mirrorless, it is compact, which makes it easy to handle and bring around, while interchangeable lens provides you with more shooting option if you so desire. In addition to the basic benefits, the J5 also stakes its claim as the world's fastest continuous shooting with AF and also as the world's shortest shooting time lag.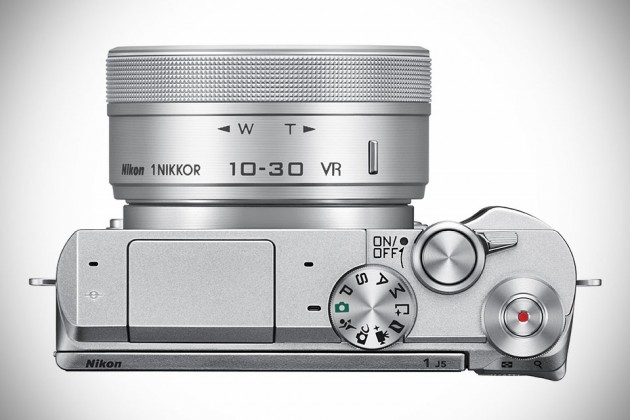 Pixel count comes in at 20.8MP as offered by its 1-inch BSI CMOS sensor which leverages on Nikon's EXPEED 5A image processing engine. In addition, it also touts 4K videoing, well, albeit at a (very) modest 15fps (and up to 10 minutes at a time). Other worthy mentions include a tilt-able 3-inch high-res LCD monitor perfect for selfies, 1080p videoing at 30/60fps, a hybrid autofocus system with 171 contrast-detect points and 105 phase-detect points, 20fps continuous shooting speed, ISO range of between 160 and 12,800, 'Sports' shooting mode for capturing moving subjects, and NFC and WiFi support for quick pairing and transfer of images to compatible smart device. Aesthetically, the J5's compact and lightweight body has a retro feel and comes complete with mechanical buttons and dials that harkens back the film era.
The Nikon 1 J5 Interchangeable Lens Mirrorless Camera will be available in a choice of silver/black, silver/white, and all-black colors and comes bundled with one-lens, two-lens and all-in-one lens kit, priced at $499.95 and up.