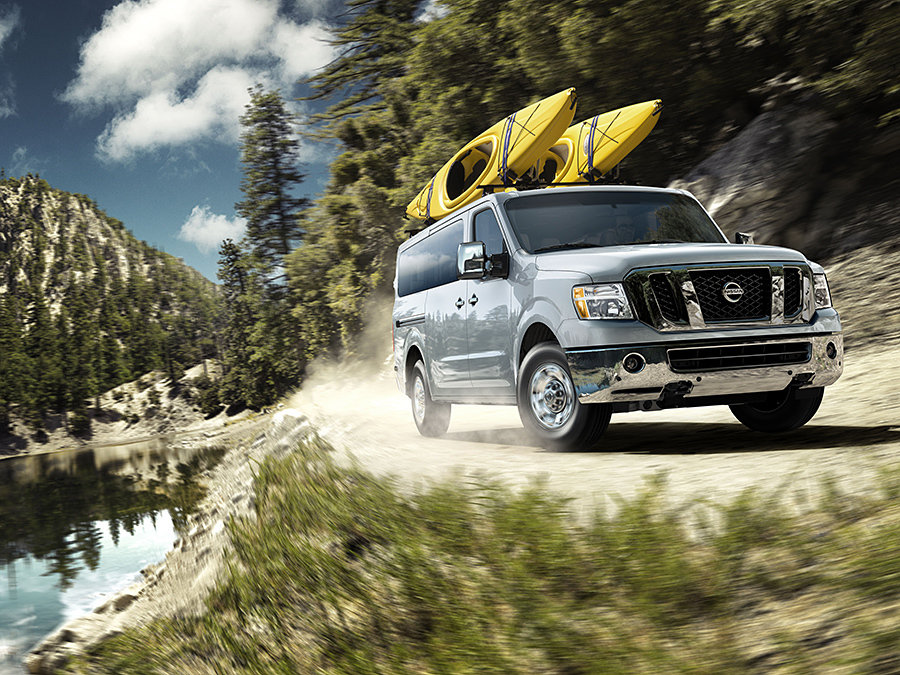 (photos: Nissan) 2012 Nissan NV3500 HD Passenger Van | US$tba | www.nissan.com
herding a group of pals to your favorite beach can be quite a challenge. the common issue is the lack of space for either people or your gears. sure, you could always get yourself a motor coach or RV but at the expense of maneuverability. not if you have the Nissan NV3500 HD Passenger Van – a vehicle that fills the gab between the cumbersome RV and a regular car or SUV. set to hit the dealers next spring, the NV3500 will be offered in a choice of two engines and three models, with a host of option packages. the van is powered either by a 261 horsepower 4.0-liter V6 DOHC 24-valve or a 317 horsepower V8 DOHC 32-valve, mated to a heavy duty 5-speed automatic gearbox. both engines feature Nissan's Continuous Valve Timing Control (C-VTC). handling and braking is in the form of independent front strut, solid rear axle with rigid leaf springs suspension, heavy duty disc brakes with Anti-lock Braking System (ABS), and engine-speed-sensitive power steering system.
[ad#Google Adsense-text-468×60]
other highlights include 17-inch wheels, a pickup truck front end design allowing for easy serviceability, easy ingress and egress, a flexible 4-row/12-passenger capacity, and a huge 28-gallon (105-liter) fuel tank. for technology geeks, you will be glad that there's a Technology Package with Rear Camera option that comes with XM Satellite Radio (without subscription), 5-inch touchscreen SD navigation system, Bluetooth Hands-free Phone System and a RearView Monitor. no word on the prices for the van and the option packages at this point but you can head on down to Nissan Commercial Vehicles website for updates and more information. in the meantime, do check out a small gallery of the NV3500 and the official PR information after the break.
[toggle title_open="Hide Press Release" title_closed="Show Press Release" hide="yes" border="yes" style="default" excerpt_length="0″ read_more_text="Read More" read_less_text="Read Less" include_excerpt_html="no"]
11.08.2011 , FRANKLIN, Tenn.
NISSAN ANNOUNCES NEW NV PASSENGER VAN WITH ENHANCED USABILITY, SAFETY AND COMFORT; SET TO DEBUT IN SPRING 2012
– NV3500 HD Joins Innovative Nissan NV Commercial Vans in Providing Dependability, Durability and Style, Along With a Low Cost of Ownership –
Just one year after its entry into the commercial vehicle business in North America with the segment-changing Nissan NV commercial van series, Nissan is expanding the lineup with the debut in spring 2012 of a new NV3500 HD Passenger Van. Offered for both personal and fleet use, the 4-row/12-passenger Nissan NV3500 HD features the most flexible seating configurations in the full-size passenger van segment, along with one of the highest standard horsepower and torque ratings.
"Just as we did prior to shaking up the commercial van category with the highly innovative Nissan NV, we first did our homework in the full-size van segment by studying the real-world needs, wants and desires of both families and fleet operators," said Joe Castelli, vice president, Commercial Vehicles and Fleet, Nissan North America, Inc. (NNA). "As a result, we're delivering a vehicle that offers everything owners are looking for – enhanced usability, driver and passenger comfort, flexible storage, dependability, durability and an affordable cost of ownership. Then we've topped it all off with signature Nissan style, performance and value."
The 2012 Nissan NV3500 HD Passenger Van will be offered in a choice of two engines, a 261-horsepower DOHC 24-valve 4.0-liter V6 with 281 lb-ft of torque or a 317-horsepower DOHC 32-valve V8 with 385 lb-ft of torque. Both engines include Nissan's Continuous Valve Timing Control (C-VTC) for improved efficiency and are matched with a refined, heavy-duty 5-speed automatic transmission. The Nissan NV3500 HD Passenger Van is built on a foundation of a rugged fully boxed ladder frame with independent front strut/solid rear axle with rigid leaf springs suspension, heavy-duty disc brakes with Anti-lock Braking System (ABS) and engine-speed-sensitive power steering. Also standard is a 28-gallon fuel tank.
In addition, the Nissan NV3500 features SUV-like maneuverability and easy access for serviceability due to its pickup truck-like front engine/full hood design.
"First and foremost, as we've learned through more than 75 years of Nissan global commercial vehicle experience, you have to start with a durable, dependable workhorse platform and highest quality components," explained Castelli. "These vehicles go through more use and abuse in a year than regular passenger vehicles experience in a lifetime, so that was a priority. Then we turned our team of innovators loose on the usability and comfort aspects."
As a result, the Nissan NV3500 HD Passenger Van more than delivers on every key area of customer input, including:
Safety – integrated seat belts for all rear seating positions; standard headrests for all seating positions; and segment-exclusive standard side curtain air bags for all four rows of passengers
Seating flexibility – 12-person seating capacity with up to 324 possible seat configurations; large 1st row seats to optimize comfort, completely removable and repositionable 2nd and 3rd row seats; 50/50-split 4th row seat than can be partially or completely removed as needed
Mobile office support – large center console with storage for laptop computer and charger, business cards, hanging files, pens and paper; available 120V outlets; seat wear patch; fold-down front passenger seat with underseat storage; no engine intrusion into the cabin area
Enhanced utility – low step-in height, easy ingress and egress without intrusive seat belts (integrated into rear seats); wide door openings; rear 50/50-split French doors with 243? rear opening
Comfort and convenience – rear HVAC system, available personal lamps for 2nd, 3rd and 4th rows; rear cargo lamp behind 4th row; available 3rd row 12V outlet; numerous cup-holders and bottle holders
Technology – available navigation system, Bluetooth® Hands-free Phone System, telematics pre-wiring, XM® Satellite Radio (XM® subscription required, sold separately); and integrated rear view camera
Modern style – Nissan truck twin strut signature grille; pickup truck style front end design; large windows with privacy glass; styled-steel 17-inch wheels
"The Nissan NV3500 HD's styling is professional and rugged outside, and completely passenger-focused inside," said Castelli. "While you want to feel assured that there is room for all your luggage, for example, you don't want to be treated like a piece of cargo inside. We've found a great balance between functionality and comfort that we believe sets the new benchmark in class."
Three Well-Equipped Models
Designed to be affordable and to stand up to the abuse that full-size passenger vans face everyday, the new Nissan NV3500 HD is available in a range of models and option packages to fit a range of owner needs and uses.
The 2012 Nissan NV3500 HD is offered in three well-equipped models, the NV3500 HD S, the NV3500 HD SV, and NV3500 HD SL (V8 engine only).
A number of option packages are offered, including a Power Basic Package (S models only), with power windows and door locks; a Tow Package (V8 only), with extendable heated outside mirrors and Class-IV receiver hitch, wiring and heavy duty battery; the Power Basic Package + Tow Package (S-grade V8 only); and the Technology Package with Rear Camera (SV and SL only), featuring XM® Satellite Radio (XM® subscription required, sold separately), 5-inch touch-screen SD navigation system, Bluetooth® Hands-free Phone System (standard on SL-grade) and RearView Monitor.
The new Nissan NV3500 HD will be manufactured in Canton, Mississippi and available through a select network of certified Nissan Commercial Vehicle dealers nationwide. For updates and more information, please go to www.nissancommercialvehicles.com.[/toggle]
SOURCE: Nissan