With the increasing details in video games, the demand for digital storage grows exponentially and the next-gen console copes by offering a pretty tantalizing 500GB of storage, but even then, that won't be enough if you play tons of games and buy digital copies off Playstation store. Even if there is a larger capacity PS4 out there, existing owners will be in a fix, unless they are apt in transplanting a new, larger capacity drive. But for everyone else, Nyko has a way simpler solution: the Nyko Data Bank for Playstation 4 and to be honest, we are loving this solution because not only it is a simple add-on solution to eliminate your space crunch, but it also looks pretty snazzy with its angular design that matches that of the Playstation 4.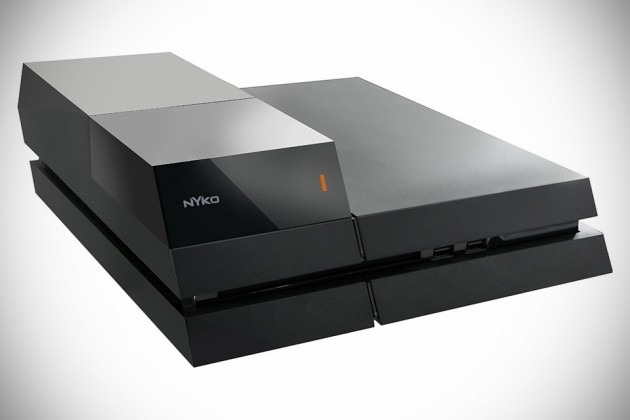 The Nyko Data Bank for Playstation 4 was first announced at the CES 2015 earlier this year, but back then, it was work-in-progress, but it is now available for your taking for just $39.99. The price is, however, without the hard drive. On the plus side, you get to choose the 3.5-inch drive of your choice to be in it, meaning you can opt for higher rpm drive for even faster performance. Though the drive will not be quite an add-on, but rather, it replaces the console's internal 2.5-inch drive and mounts atop of the PS4 (note: it actually replaces the shiny cover of the PS4). It is powered by a passthrough cable, hooked up to the PS4, so you will never have worry about turning it on and off.
Apparently, the external enclosure is capable of supporting up to a whopping 6TB drive (oddly, the company recommends HDD to be 2TB or lower) and looking at how affordable today's hard drives are, it is a surefire way to ensure your PS4 longevity in terms of digital storage. Of course, you can always do it the conventional way by hooking it with any external storage, but Nyko's solution seems like a more sophisticated way to up your PS4 storage capacity. Keep going for a product introduction video, as well as a installation walkthrough clip.
via Geek