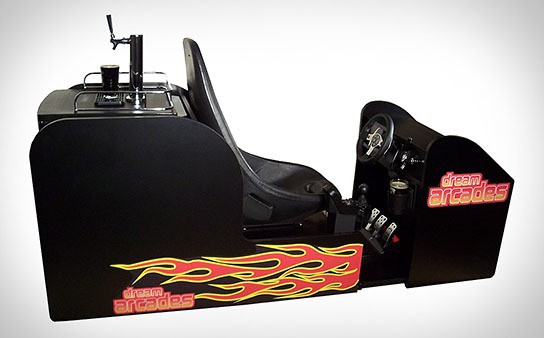 (credit: Dream Arcades) Octane 120 Pro Beer Arcade | US$5,995.00 | www.dreamarcades.com
we all know driving under influence is a big no-no in the real world but i guess, it is no harm doing it in the virtual world. the Octane 120 Pro Beer Arcade from Dream Arcades lets you do just that. it is not only a driving game chair setup but it also includes a kegerator behind the seat complete with taps for dispensing your favorite alcoholic beverage. completing the drink and drive is a secondary tap on the cockpit's dash, ensuring an uninterrupted beer gulping session while you are battling with your virtual car in a drunkard stupor.
the Octane 120 Pro Beer Arcade comes package with Arcade Dreams' high-end gaming PC with PS3 connectivity and comes preinstalled with twelve classic and modern driving games. this new 'Pro' model also comes with a wireless arcade control panel (aka fighting sticks) and a whopping 150 arcade games for those who fancy a little drunkard Pac-man and the likes. other features include a fully adjustable steering wheel and seat, a dual force feedback leather wrapped steering wheel complete with gear shifter, metal constructed accelerator, clutch and brake pedals, HD projector upfront and a cup holder conveniently located under the secondary tap.
the price? all these sweet features, pre-built and preconfigured for a cool $5,995. perhaps, Octane 120 Pro Beer Arcade should be called the drinking-driving simulator. no? jokes aside, we do not support the idea of drink driving or whatsoever.
Dream Arcades via Uncrate