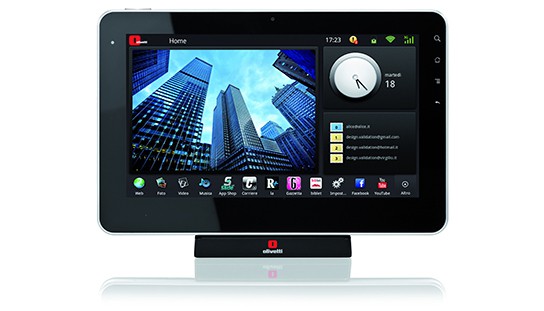 (image credit: Olivetti) Olivetti OliPad 100 Touch Tablet | €399.00 | www.olivetti.com
Olivetti, a wholly-owned subsidiary of Telecom Italia SpA just added a tablet to its line of PC and communication products. dubbed the OliPad, this Android-based tablet is powered by NVidia Tegra 2 Dual Core ARM Cortex A9 processor with a clock speed of 1 GHz and sports a 10-inch TFT-LCD capacitive touchscreen with a resolution of 1024 x 600 pixel. the OliPad is designed for everyday consumer and will also be at home with business or enterprise users. the tablet offers access to wide range of applications which are either pre-installed with the OliPad or downloadable from dedicated App Shop.
like the AlessiTab, OliPad built-in apps allow users to surf the web, carry out their social networking and access to multimedia which include listening to music, browse through photos and watch HD video content. also among the suite of built-in apps are web browser (of course), email, calendar, contact book and of course, an ebook reading application. what sets the OliPad apart from the slew of consumer-oriented tablets is its a business-ready tablet too. business entity can customize the OliPad to suit its specific requirements. OliPad offers access to a range of applications via the Applications Warehouse, which is a virtual store of configurable and customizable software apps designed by Olivetti targeted at businesses and government bodies.
Olivetti dealers will have access to the Application Warehouse, giving them the ability to build integrated solutions for their customers based on their customers specific requirements. on the hardware specifications end, the tablet is supported by 1 GB DDR memory and internal data storage is restricted to a modest 16 GB but expandable up to 64 GB via SD card. the trio of connectivity, namely, Bluetooth, Wi-Fi and 3G keeps user connected on the move. it also comes equipped with USB and HDMI ports to interface with other devices.
strangely there's no indication of any integration with gyroscopes or accelerometers, which most tablets of today has. imaging is taken care by a modest 1.3 megapixel camera and audio is through 2 x 1W speakers. other features include built-in G-sensor, light sensor and microphone. the OliPad uses a internal Lithium Polymer battery (3650 mAh), though Olivetti did not give any estimates for the battery performance. the 10-inch tablet measures 267 x 173 x 13.9 mm and weighs in at 780 grams. the Olivetti OliPad 100 is on sale now for around €399 (about $550). check out Olivetti website for more details on where to buy.