(photo source: alessi.com)
if you are into designer's gadgets, you are in for a treat. Alessi, an Italian company specializes in beautifully designed contemporary housewares, has announced the AlessiTAB, an interactive multimedia tablet. developed in conjunction with Promelit, the tablet is designed exclusively by Stefano Giovannoni. Stefano is the man behind many beautiful creations such as AlessiPHONE (2009), Alessi Scale (2005), Alessi Toaster (2006), TOTO washlet (2008) et cetera. his attention to detail and forms can certainly be seen in the AlessiTAB.
the AlessiTAB spots a 10.1″ high definition touch screen and runs on Google's Android 2.1 OS with 1GB of internal memory. the idea behind AlessiTAB is be "the focal point of advance household communications" where everyone in the household will be able to find a use for it. i have no doubt about this. i definitely would have a lot use for it. other features include auto-rotation with gravitational sensor, Wi-Fi 802.11 b/g connection, DVB-T with antenna, integrated microphone and camera, HD support with HDMI output, USB Port / SD card.
a tablet is only as useful with the right contents, with this understanding Alessi has made quite a few agreement with several establishments to provide content for the AlessiTAB. these include ANSA news and weather, Editoriale Domus – Il Cucchiaio d'Argento, DOKI, Radiotime 13,000 radio stations across the world and INRAN Italian National Research Institute for Food and Nutrition (perfect for health-concious home chef).
The AlessiTAB is scheduled to be available this coming November. However, no words on what's the price for such a sexy gadget. wait, did i just said 'sexy'? hmmm…
visit Alessi website.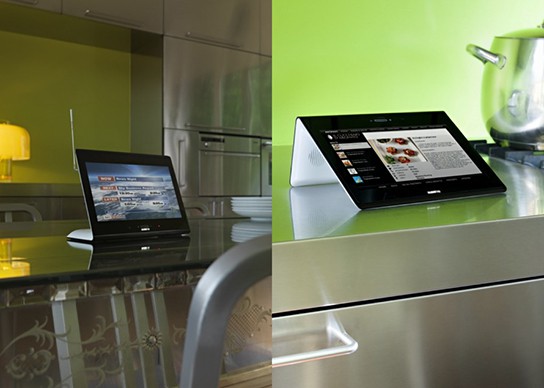 (photo source: alessi.com)