Love surfing, but lack of the access to seaside without driving a day or two? Well, fret not, with the this electric surfboard from Basque Country firm, Onean, you can surf as long as there's a waterbody large enough for you to do so. While this may not go well with purists, you can't deny it is a quick fix for days when the sea is dead calm. Two models are being offered, Carver and Manta. The former takes on the shape and size of a traditional surfboard and is geared towards adrenalin junkies, while the latter resembles an oversized bodyboard for relaxed cruising.
A handheld remote control allows you to manipulate the power of the Carver's 4,440W dual-core brushless electric motor and axial water pump, and directional control is achieved through leaning motion, just like one would do on a traditional surfboard. It is every bit of the surfboard that you may have acquainted with, except this needs no waves for similar exhilaration (speed slalom, anyone?). Though, the top speed is yet to be confirmed at this juncture and ride time is limited to around 20 minutes, if pushed to its limits.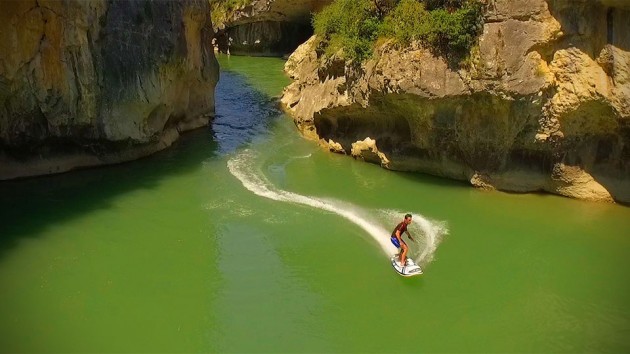 The Manta, on the other hand, is a milder version, powered by a modest 450W motor that allows it to traverse across the water at a super relaxing 7 kph (or 4.3 mph) for over two hours on a single charge. A paddle aids in the Manta's movement and direction control. Both boards feature a sandwich construction and CNC-shaped EPS core and they are super lightweight, with the Manta weighing in at 16 kilograms (35 lbs) and the Carver, tipping the scale at mere 12 kilograms (26 lbs). But it is worthy to note that those numbers are without the battery pack.
Since the boards are 100 percent electric and near-silent, they are are perfectly suited for a wide range of water spots, including lakes, rivers, and of course the open waters. Onean is taking in limited pre-orders for the Carver and Manta, priced at €3,450 and €3,650, respectively (about US$3,817 and US$4,038). You can catch the boards in action in the embedded video below.
submitted via TIP US page.