OnePlus is now the official partner of the first-ever League of Legends Wild Rift Championship in China and to commemorate this, the China smartphone maker has taken apart a OnePlus 10 Pro and turned it into an amazing commemorative figure. The figure, which is a mechanical bird of sorts, has a name that literally translates to Steady Machine Dancing commemorative figure.
I am not familiar with League of Legends: Wild Rift and so I have no idea if this majestic creation was inspired by any characters or creatures from the mobile game. But whether or not it is inspired by anything is not important. What is important is that this commemorative figure looks absolutely stunning.
Actually, it is more than just a figure. It is a kinetic sculpture with moving gears and wings. As cool as it is, the figure is for promotional purposes and not for sale. So all we have is the lone image for us to drool over.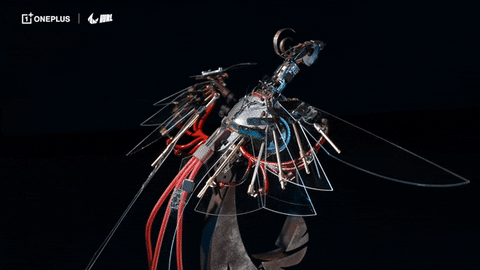 This is not the first time phones were taken apart and turned into action figures or a sculpture. Xiaomi has previously commissioned Ray Studio to turn its Mix Fold into a miniature city and Ray Studio himself also turned a phone into a stunning mech sculpture.
It is worth noting that the build also uses the charging brick as well as the cable. And obviously, some parts are custom-made and not from the phone. Speaking of phones, the donor was a used device that was used in the WRL1 championship.
The sculpture was the work of the artist known as 废土马力 which loosely translates to Waste Earth Horse Power, commissioned by OnePlus.
Images: OnePlus [CH].