The Gunpla model builder Ray Studio who rebuilt a smartphone into a mech sculpture and turned a Braun shaver into a stunning robot sculpture is back. This time, Ray Studio took apart the Xiaomi's first folding phone, Mix Fold, and turned it into a miniature city model that features Shanghai Pudong (上海浦东) on one corner and what appears to be the Parthenon on top of the citadel of the Acropolis.
In between the two cities, a motor vehicle bridge cuts across diagonally – complete with some "vehicles" plying the highway. Meanwhile, the water underneath has its fair share of water traffic. What's made this sculpture even more intriguing is, it can be reconfigured into a globe and hence the official description "Folding Globe".
Clever engineering enables some select parts of the reconfigured phone to form a small globe that allows the components that made up the city to be packed inside. We have no idea what this sculpture signifies. Perhaps, two worlds? Or the marvel of ancient technology against the backdrop of modern advancements and economic growth? We have no idea. We can only speculate.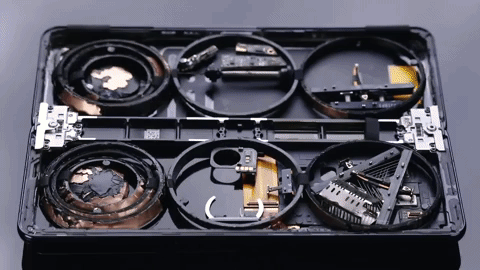 One thing for sure is, this is a Xiaomi-commissioned project. The video was posted on Xiaomi's Weibo page. Ray Studio has yet to post on his video channel on Baidu, nor has he put it up on YouTube. If anyone's interested, you can watch the video on Weibo.
Images: Ray Studio/Weibo (Xiaomi).