Let's Crystal It Swarovski Crystals-encrusted Toilet Bowl | US$25,000.00 | www.letscrystalit.com
we have seen our fair share of opulent throne, and there's even one that's was adorned with Swarovski Crystals but one that's completely encrusted with these gorgeous crystals got to be the first. instead of just a handful crystals, this ultimate in bling bling throne is encrusted with 10,000 Swarovski Crystals. for three weeks, three employees from Let's Crystal It spent 40 hours each week, painstakingly hand-set the gorgeous crystals onto the toilet bowl. in fact, it feels kind of rude to be terming it as a toilet bowl. with such a bling, it should be worthy to be called the throne.
so what's the price of such an opulent and ridiculously blinged toilet bowl, er… i mean throne? it cost a cool $25,000 but there's no word on its exact availability. i suspect it's something that's built-to-order. so if you are running out of ridiculously-priced things to buy, may i propose this Swarovski Crystals encrusted throne to be next on your shopping list. judging from the images, i got a feeling it is probably more than 10,000 crystals there. what do you think?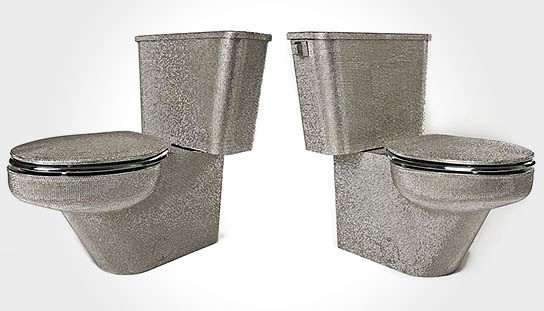 via LuxuryLaunches