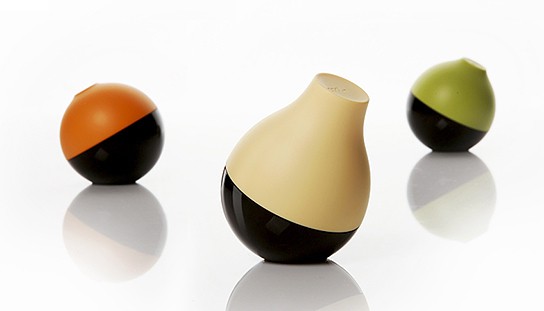 Peel Universal Remote | US$99.95 | www.peel.com
Peel is not the first universal remote that's designed for use with iPhone, but it's the first that looks cute and perhaps, making your cable UI looks a little more presentable, if not more stunning. as with all universal remote for iPhone, the Peel, is in fact a go-between between your IR-commanded devices and your WiFi/Bluetooth enabled iPhone.
this nifty gadget is designed by Yves Behar and Fuseproject, lets cable couch potato quickly reference what's on the TV, control the entire entertainment system, and share the program information with your friends – all from the iPhone, iPad or iPod Touch. of course, this would means downloading and installing the free Peel app to get all this couch-potato comfort in the palm of your hands. with the Peel and the app combo, you can safely chuck your remotes away, start telling the Peel where you are, what you like and the Peel will tell you what's on.
interestingly, the app's built-in AI will learn your viewing patterns over time and makes recommendation to you the next time you hit the Peel app. it may sounds like a minute feature, but to a couch-potato, it means cutting the hassle of browsing through the incoherent program guide and still couldn't find what you want to watch. what's more, the Peel hardware is aesthetically pleasing too, and it comes in three fruity flavor: apple, orange and pear.
the Peel cost $99.95 a pop and its available via the Apple Online Store. the App is of course, free of charge and is available on the Apple AppStore.
via Fast Co.Design