lets just skip pass the market mambo jambo that comes standard with any automobile press release. Peugeot has a couple of new performance 308s, which the French automaker labeled as GT. the first is a regular hatch and the other being a station wagon. yes. a station wagon GT. sounds like fun to us. fresh from their commercial success reported as at end of August, the 308 GT duo will be offered with two engines. the first is a four-pod 1.6-liter THP 205 petrol unit, featuring a twin-scroll turbocharger, direct fuel injection, variable valve lift on inlet, variable valve timing on both inlet and exhaust, and Stop&Start for a touch of eco-friendliness. there is also diesel unit, a 2.0-liter inline four BlueHDi 180, that touts Peugeot's third generation common rail fuel system, a new combustion chamber, and a higher compression ratio of 16:7:1.
as indicated by the engine model designation, the petrol develops 205 horses and has 210 lb-ft (285 Nm) of torque on the tap, while the diesel variant boasts 180 horses with a pretty impressive 295 lb-ft (400 Nm) of torque. the petrol unit will comes standard mated to a six-speed manual gearbox and the diesel's power delivery is through a EAT6 automatic gearbox. on the performance end, the 380 GT makes zero to hundred in 7.5 seconds, which we understands it as being a performance as offered by the compact hatch model with petrol unit. aesthetically, the new 308 GT duo is fitted a new grille with the lion emblem, flanked by three horizontal blades on each side – topped GT signature integrated into the grille. the GT signature can also be found at the front quarter panels, as well as the tailgate. these rides also boast LED lighting throughout, including top of the range headlamps with 62 LEDs and the indicator lights, which offers dynamic sequential operation from the inside towards the outside, can be found above the new air scoops.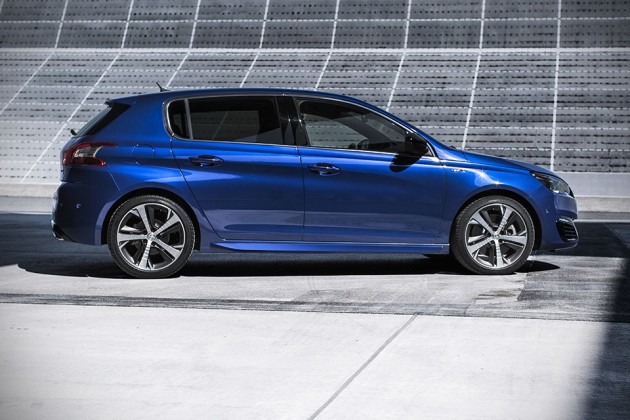 other key features include a lowered ride height and stiffer suspension setup, variable electric power steering, 18-inch diamond wheels wrapped in Michelin Pilot Sport 3 tires, an alcantara or Club Nappa leather interior punctuated with red stitching and aluminum elements, perforated leather steering wheel (with GT badge naturally) and a large touchscreen display. the new Peugeot 308 GT and 308 SW GT will be offered in, among other colors, a new Magnetic Blue which is an evocative of the blue traditionally reserved for French competition vehicles. no word on when the duo will hit the market, or how much they will cost in France or anywhere else in the world.