Beats has arguably been the forerunner of headphone fashion statement. its products have met with divided opinions and controversial to some extend. that said, will Sennheiser, a company mostly known for its serious sound coupled with serious look, new URBANITE headphones able to give brands like Beats a run for their money? described as "the new sound of urban style" and crafted specifically to bring bass for an intense club experience on the move. well, that, we can only assume it is going to be bass-heavy and very loud, and you and i both know which segment URBANITE has its sight set on. there are two models to choose from: an on-ear model and an over-ear known as URBANITE XL. regardless of the model, it promise to deliver "massive bass", along with Sennheiser's signature clarity throughout the entire frequency range.
the headphones boast a robust construction using durable materials and metal parts, and sports an unique folding mechanism. it has hinges of stainless steel, aluminum sliders and color-coordinated fabric-wrapped headband – an odd choice, if you ask us cos' fabric is never deem as ideal for something that will be exposed to sweat. anyways, it also features an integrated inline remote control with microphone for taking calls and music control, available to suit Apple iOS devices, Windows or Android devices. on the pricing matter, the duo is priced on par with Beats with the URBANITE going for $199.95 and the URBANITE XL commanding $249.95. also announced at the recent IFA 2014, is an addition to the MOMENTUM range, a pair of in-ear headphones.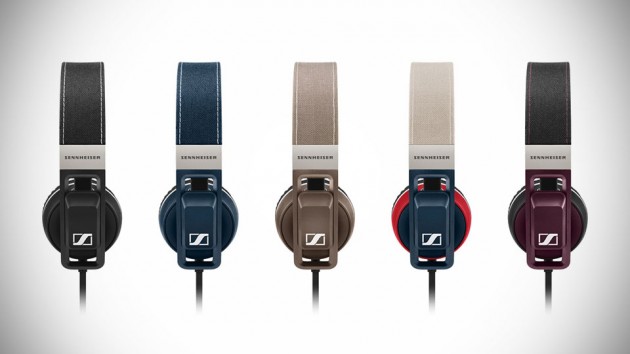 like its over-ear counterpart, the MOMENTUM in-ear earbuds sports an elegant design and is crafted from a combination of stainless steel components with mirror chrome detailing and impact resistant polycarbonate. it features "class-leading proprietary transducer technology" newly developed by Sennheiser to reproduce the sound that is consistent with the MOMENTUM range, which means powerful bass response, detailed vocal projection and a great sound stage. a dual-tone elliptical cable prevents tangling, while a three-button inline remote with microphone allows you to take calls and covers the aspect of music control. the MOMENTUM in-ear headphones is expected to hit the stores this month, available to suit Apple iOS, Windows and Android devices with an asking price of $99.95. keep going for a few more look.