it has been while since we were last impressed by any Bose headphones as far as design goes and hence, the lack of them here. however, the next-generation QuietComfort headphones announced last week, the QuietComfort 25 already had us at hello. granted we can't attest to the sound yet, but as far as looks and what's being promised under the hood goes, it sure sounds like Bose has a winner in their hands. aesthetically, we are digging its clean look, which unlike the QuietComfort 15, has less thing going on. we believe 'sleek' is the word we use to describe such design excellency. on the technical aspect, the QuietComfort 25 is the culmination of three decades of research, boasting a more finely tuned Active EQ that delivers a smoother frequency response spanning the entire spectrum of sound, regardless of listening level.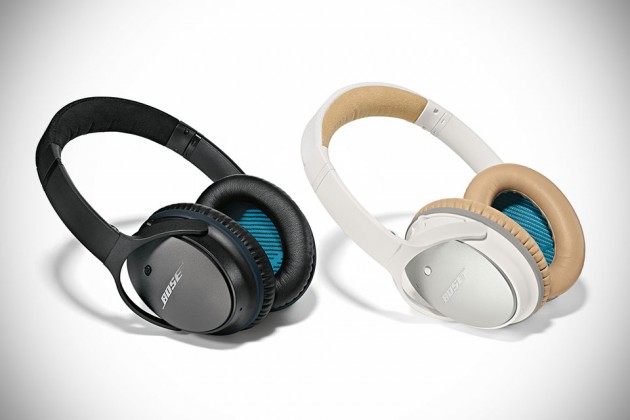 Bose's proprietary TriPort technology pumps out deep, detailed low notes while a lower noise floor reduces the common "hiss" associated with conventional active noise canceling headphones. the latter is made possible through an exclusive electronic chip that filters out unwanted sounds in a fraction of a millisecond with information fed by microphones located on the inside and outside the earcup, which Bose proudly claims as "a new level of quiet for around-ear headphones" and one that cancels out more noise than any other Bose consumer headphone in history. QuietComfort 25's active noise cancellation is juiced by a single AA battery, good for up to 35 hours of usage, but in the event of the battery conking out, say in the middle of a flight, you will still be able to enjoy your favorite tunes, sans the noise cancellation, obviously.
it comes supplied with an inline remote with integrated microphone for taking calls and music control with select iPod, iPhone and iPad models, as well as select smartphones. other details include a proprietary headband design wrapped in engineered fabric as used in high-end automotive applications, ear cushions made of protein leather, soft-touch TPE bumper on earcups, and a new earcup pivot of cast zinc that allows the headphones to be folded into an even smaller form for ease of storage and portability. the Bose QuietComfort 25 comes in a choice of black or white, each with blue accents, and are available now for $299.95 through Bose retail stores, Bose online store, as well as authorized Bose dealers. you can also choose to customized the audio cans in the colors of your choice for premium price of $399.95.