Dolby Atmos is the latest in Dolby sound technology that goes above and beyond what your usual surround sound can offer by introducing sounds from above, so you can immerse yourself in the pouring torrential rains or thundering aircraft flying overhead. now Dolby wants you to experience this same overhead sound outside of Dolby Atmos theaters and Pioneer Electronics is the among the first to bring this new surround audio technology to your home with its Pioneer Dolby Atmos Elite Speaker System. the system comprises of bookshelf speakers (SP-EBS73-LR), center channel speaker (SP-EC73), floorstanding speakers (SP-EFS73) and subwoofer (SW-E10), and was penned by Pioneer's chief speaker engineer, Andrew Jones.
your usual surround sound is served up through a 3-way setup found in the bookshelf, floorstanding and center channel speakers, delivered via 5-1/4″ aluminum woofers, 4″ aluminum midrange driver, and a 1″ soft-dome tweeter, while an additional 4-inch CST speaker integrated into the top of each of the speaker's enclosure offers the magic of Atmos without the need for separate ceiling speakers. this means you will get to experience Dolby Atmos right your home with a setup that's no bigger than a traditional 5.1 channel system, but you will sure find yourself messing with a few more speaker cables. so cable-phobic, home cinema fanatics may want to take note.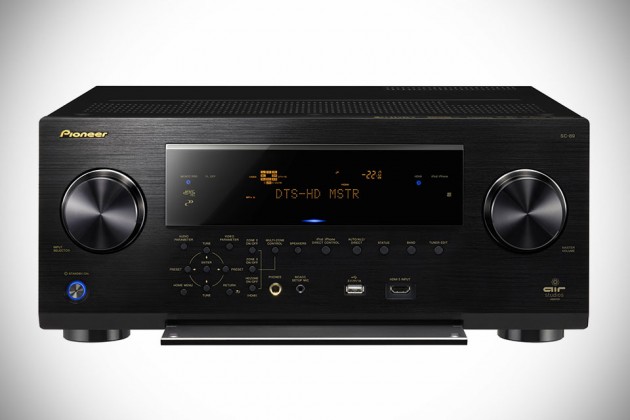 along with the Dolby Atmos-enhanced audio system for your home theater setup, Pioneer also introduces the Pioneer Elite SC Class D3-powered Receivers with Dolby Atmos technology to ensure you the get the most out of what the latest in surround sound technology has to offer. the three AVR in the Elite series, namely SC-85, Sc-87 and SC-89 offers 9.2-channel and are Dolby Atmos upgradeable via firmware update available later this year. the Pioneer Dolby Atmos Elite Speaker System will be available as soon as late Summer and as separates, starting at $399, while the Pioneer Elite SC Receivers will hit the shelves this Fall for $1,600 and up.