being kids these days are nothing short of lucky, especially if they have parents with deep pockets. not only do they get to share the joy of gadgets with grown ups, they even have miniature rides to call their own. and when we say 'miniature rides' we meant ride-on toys that are pretty much a replica of the real deal such as the Ford x Fisher-Price Power Wheels F-150 you see here. of course, this is not the first official collaboration between the automaker and the toy maker; in fact, this F-150 is the third generation ride-on toy inspired by the 2015 Ford F-150 that was unveiled at the 2014 North American International Auto Show.
it might be a kiddie ride, but Ford is no less serious about it and even went to the extend of sharing the designs nine months ahead of the real truck's debut at the NAIAS. then again, with $2 billion in retail sales generated from its 400 licensing agreements, Ford wouldn't possibly pass off this opportunity to bring the new F-150 to doting parents. more so when it is already expecting it to be the best-selling merchandise in Ford's lineup. it might be small, but it is still designed for tough driving conditions, albeit at a miniature scale, including going over wet grass, mud, bumpy terrain and more. it has a two-speed drivetrain (electric, naturally) that tops out at 5 mph and does reverse too. additionally, it is fitted with high-speed lock-out to keep novice driver from 'getting out of hand' and it is equipped with Power-Lock brakes to haul this miniature workhorse to a stop.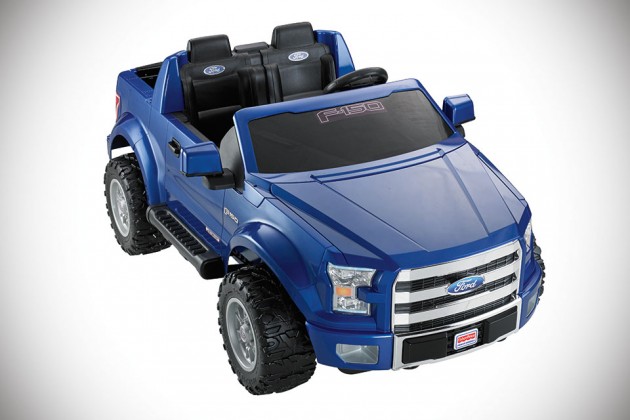 like its predecessor, this third-gen ride-on truck seats two and has a tiny bed with working lift-and-lower tailgate to boot. other standard equipment include real working FM radio with audio line-in for MP3 player, chrome wheels and grill, and LED lights. the third-generation Ford x Fisher-Price Power Wheels F-150 will be hitting the market this September, starting at $349.99, but eager parents out there can pre-order yours as we speak. we have no illusion that this is a somewhat pricey toy for kids, but it is still way more affordable than these luxury kiddie ride from Henes Broon.