Remote control Millennium Falcon isn't the newest new, but this recently announced officially licensed iteration by remote control toys maker, Air Hogs, is as close as you can get to the real flying Millennium Falcon that actually looks like one. Sure, it won't make the Kessel Run in twelve parsecs, but being a quadcopter as its base, it means it is stable enough to zip around even in close quarters and possibly avoid some asteroids with ease.
The RC toy was officially unveiled at the Star Wars: Global Unboxing Lifestream at Fan Expo Canada, along with other delightful toys, including the super cute App-controlled BB-8 Droid and another copter-based X-wing fighter, in preparation for the release of the latest Star Wars flicks, Star Wars Episode VII: The Force Awakens in December.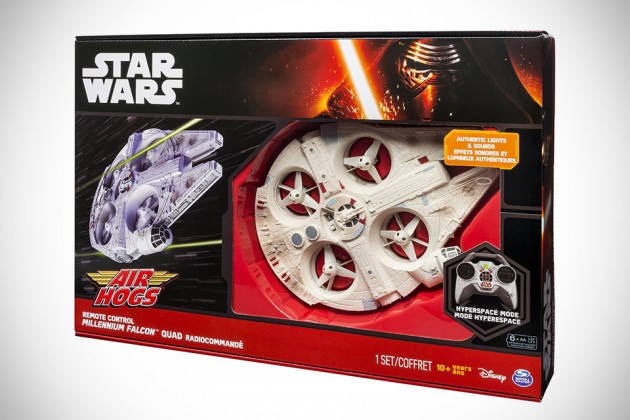 As with many of Air Hogs' RC flying vehicles, Air Hogs Star Wars RC Ultimate Millennium Falcon Quadcopter is crafted from high-density foam to withstand the rigor smuggling jobs (imaginary one, of course) and boasts features like authentic light and sound effects, a matching 2.4GHz remote controller (aka transmitter), up to 200 feet range, and of course, four tiny horizontally rotors, carefully concealed within its durable foam body.
Air Hogs Star Wars RC Ultimate Millennium Falcon Quadcopter is expected to be available later this week, but you can secure yourself one through Amazon as we speaks for $109.64.