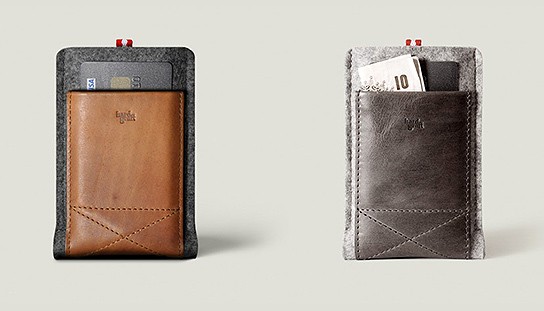 (image credit: Hard Graft) Hard Graft Pocket Phone Case | €49.00 | www.hardgraft.com
not every one uses a wallet or purse (for ladies) but we still do need to carry some cash one way or another. however, there are times we just want to grab our phone, some cash or credit cards and hit the club and that's where the Hard Graft's Pocket Phone Case comes in. it has a pocket that fits your phone between two layers of 3-mm thick asphalt or concrete grey wool and it also has a leather pocket that will hold two credits and some cash. ideal for those who prefer to 'travel light' especially on those chill out sessions.
the Pocket Phone Case is made of 100% wool and premium vegetable tanned leather. the tanned leather gives it a natural and unique look, thus no two Pocket Phone Case will look the same. it will fit iPhone 3/3GS, iPhone 4, iPod Touch as well as some Blackberry smartphone and is available in a choice of two colors, brown/asphalt grey and all grey. as with most Hard Graft products, the Pocket Phone Case is handmade in Italy and retails at €49.00 (approximately US$68). not exactly cheap but it serves two purpose in one neat package, and it looks pretty nice too.