If you like fast, powerful, stick-shift car that's practical for everyday driving and have quite a sizeable amount of money at your disposal, then Porsche has just the right car for you: the Porsche 911 R. Yup. The 911 R is back and like its legendary predecessor, the new 911 R boasts a systematic lightweight construction and high-level of performance that promised an unadulterated driving experience. Moving this new 911 with a R is a 4-liter naturally-aspirated flat-six engine that puts out 500 horsepower and 460 Nm (339.2 pound-feet) of torque.
It's rear wheel driven, with power going through a good'ol six-speed manual gearbox. With a high-revving six-cylinder engine and just 1,370 kilograms (3,020 lbs) to push along, it is only natural that this sweet, sweet ride is fast. Though not as insane as the Bugatti Chiron, but it still makes 0-60 in 3.7 seconds and a top speed of 201 mph (323 km/h). And with combined NEDC fuel consumption of 21.2 mpg (13.3 L/100 km), it most certainly qualifies as an everyday ride. Not bad for a ride that cost a fraction of the price, eh? But that's not to say it is anywhere near affordable; it will still run you back at a rather hefty $184,900 and with just 991 examples being offered worldwide, i am pretty sure it is going to fly off the showroom floor pretty swiftly.
The 99 R was inspired by the track-going 911 GT3 and 911 GT3 RS and in the good'ol tradition of 911, its 500 hp motor is rear mounted. Other performance and go-fast bits include specially-tuned rear-axle steering, mechanical rear limited slip differential, Porsche Ceramic Composite Brakes, Ultra High Performance Tires (245mm front and 305mm rear), lightweight forged aluminum wheels with center-locking, Porsche Stability Management, double-declutch function with a press of a button, magnesium roof, carbon fiber hood and front wheel arches, lightweight plastic rear windscreen and rear side windows, retractable rear spoiler, bespoke aerodynamic diffuser, redesigned front lip, and titanium sports exhaust system.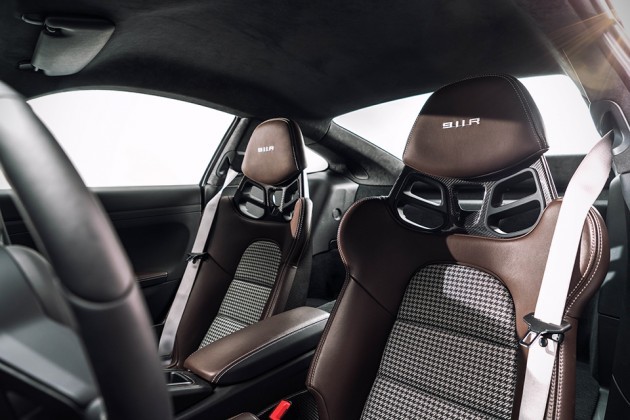 On the inside, it gets a set of carbon fiber bucket seat with bespoke fabric center panels in Pepita tartan design, fabric pull straps on each door, R-specific 360mm diameter GT sport steering wheel, short shift gear lever, carbon trim strips and finally an embedded aluminum badge found on the passenger's side that indicates the limited number of each 911 R.
If those aren't enough for you, there are some optionals like single-mass flywheel for improved spontaneity and high-rev responsiveness and a lift system that raise front axle by around 30mm at a press of a button. And oh, remember we said something about an everyday ride? Well, that's only if you can the creature comfort sound insulation, air-conditioning and audio. Though, Porsche did say that they can be ordered at no extra charge. Now, that's comforting, isn't it?