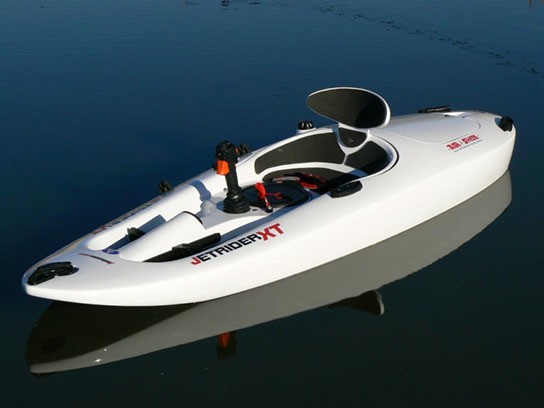 (image credit: Jetbuster) Jetbuster Jetrider XL | US$3,000.00 | www.jetbuster.com
kayaking has just become a less strenuous sports activity with the new Jetrider XL from Jetbuster (formerly, Surfango). the Jetrider XL is essentially a motor powered kayak which spares your arms from the strain and injects a new fun into kayaking. the monocoque lightweight hull is constructed of high impact GRP and powered by an electric start 9.5-hp 2-stroke engine with a patented jet drive system that's capable of a top speed of 25 mph (40 km/h). that's a pretty amazing speed for such a small water craft which should provide adrenalin junkies with an exhilarating experience.
[ad#Google Adsense-text-468×60]
control of the Jetrider XL is via a centrally located Joystick with trigger-throttle which reminiscent of the helicopter joystick. the rider, or pilot if your prefer, sits on a fully suspended and adjustable KAYASHOX-Pilot seat with AIR SHOX spring-damper, cushioning the rider from the roughs and bumps serve up by the waves. Jetrider XL lets you enjoy the fun and thrill of kayaking while ignoring the wind and waves that would have otherwise dampens the traditional pedal-power kayak. a full-tank of 1.5 Gallon (5-liter) will give rider a maximum of 3-hours of wave-riding fun.
start/stop of the Jetrider XL is via the buttons located on the onboard digital control-display unit, which also displays the RPM of the engine and coolant temperature. other features include a large secondary storage to stow the essential equipment for an all-day adventure, a pair of independently working bilge pumps and a fire extinguisher bracket in the engine compartment.
the Jetrider XL measures 295-cm long and 70-cm wide, and weighs in at 139-lbs (approximately 68-kg). the Jetrider XL is up for grab for a fraction of a jet ski price at approximately $3,000, saving you some money to get a yacht and stuff a couple of this in it for a weekend of fun out in the open water. sounds like a lot of fun to me.
via Gizmag