we have already gotten kids started with touch devices and coding, well, why not engage them in the world of 3D printing too? sounds cool? but there's just one slight problem here. today's 3D printers, though touting ease of use, is not necessary the easiest for kids (whiz kids, excluded) and hence, the birth of Printeer, a 3D printer specifically designed with kids in mind – starting with an attractive, colorful outlook that will definitely have juniors' attention. operating the Printeer only requires the 3D printer and an iPad with WiFi connectivity. no brain-taxing 3D program or CAD programming necessary. the kids will unleash their creativity with an app on iPad and when ready, just send it to print and that's it.
the machine itself is intentionally color coded and clad in a transparent enclosure for the young 3D printing padawans to see the inner working of the 3D printer as part of the learning process and also keeps curious hands out of heated or moving parts. the printer has a removable build platform so that finished parts can be removed with ease (much like baking tray) and it uses PLA plastic filament which is non-toxic and harmless to your young ones. a couple of other details include an auto bed leveling system and of course, built-in WiFi for hooking with your home or school's wireless network. it has a 6″ x 4″ x 5″ (150 x 100 x 125 mm) build volume, while the machine measures 16″ x 9″ x 12″ (406 x 229 x 305 mm) and weighs in at just 12 lbs (5.5 kg).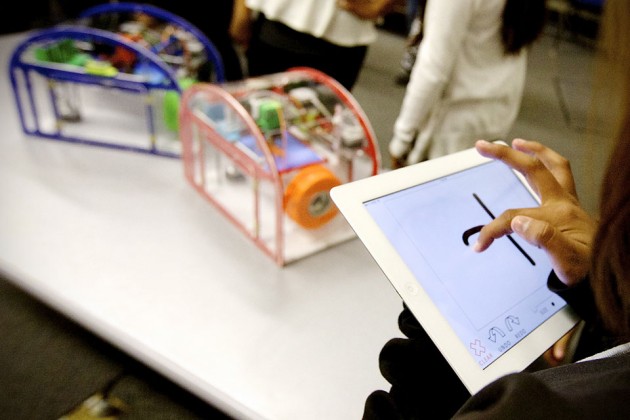 the folks behind Printeer, Mission Street Manufacturing, has bigger aspiration than just having a kid's 3D printer that appeals to junior. they hope that this affordable and easy to use 3D printer will find its way into education, making this technology accessible to the young ones. but for now, if you want to grab one for your kids (or even yourself), you can do so through the product's Kickstarter campaign. for a pledge of as low as $549, you will secure yourself one Printeer, with delivery expected to happen in February 2015. keep going for a product pitch video to learn more.