Aviation nuts will welcome anything aviation-related into their home. Some even goes to the extend of putting dead ammunitions in their home, which of course, is not something anyone should do, but not if that ammunition is a practice cluster bomb that has been stripped, polished and turned into a stunning drinks cabinet. So yes. What you are seeing here is an actual practice cluster bomb and if anything, the size and weight should pretty much reinforce the notion that it was indeed a real bomb. It measures a towering 7.25' and 2' in diameter, and tipping the scale at a hefty 600 lbs. Now, this is one piece of furniture that won't want to be moving around often.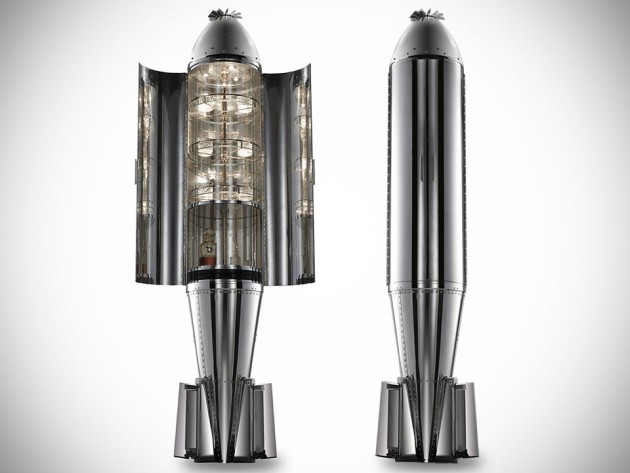 Made by British outfit Fallen Furniture who specializes in reclaiming aircraft parts and turning them into awesome masterpieces, the very appropriately named The Bomb Drinks Cabinet is said to be one-of-the-kind piece where there's no plan for future replication. Gone were the military appearance and in its place is a gleaming, mirror-polished exterior of aluminum and steel, and where deadly electronics and bomblets used to call home is now occupied by three glass shelves that revolve around a gold-plated spindle. At its base is a cleverly concealed sliding platform build from lacquered American walnut that opens to reveal a set of custom-made, copper cocktail utensils.
Interested? Well, the good news is, it is probably still up for grab. However, pricing is not known, but it is safe to assume that it is going to cost a bomb and that you will need to have a sizeable disposal income to own it. Why? Obvious. It's a bomb and there is only one in existence.