If you're the type who love to stand out with the products and accessories you use, then we're very sure these tablet stands made from reclaimed railroad tracks will be of an interest to you. Handcrafted by Nashville-based Rail Yard Studios and presented by accessory maker Griffin, these tablet stands are made from actual rail stock installed on the original Louisville and Nashville Railroad between 1906 and 1908. And so yes, you're looking at a century old or more rugged steel, repurposed for today's gadgets. Each stands not only provides a unique resting place for your favorite slate, but also lets you own a piece of the rich history of the original superhighway, the railroad. Now, not many people can say they own a piece of a century old rail, can they? Which is what makes these accessories so irrationally attractive to us.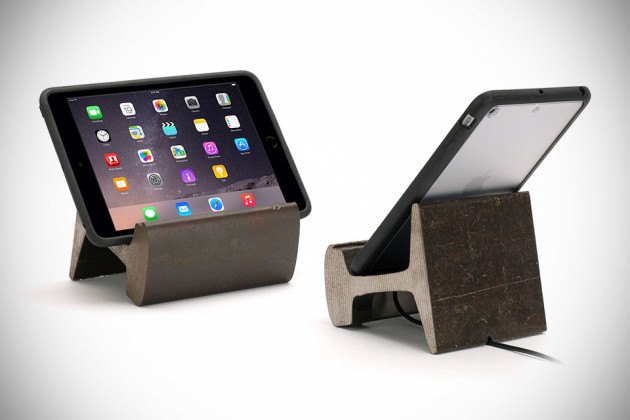 Designed to suit full or mini sized tablet and in both landscape and portrait orientation, the stands are offered in two models: the Rail Slice Tablet and Rail Artifact Stand. The former is a piece of decommissioned rail, modified with cavity to fit a charging cable (not included) which also allows the sound of the tablet to be projected when in portrait mode. The Rail Artifact Stand, on the other hand, is actually a tie plate and two antique railroad spikes that were formerly used to hold railroad together. Being a century old and used, each piece does come with complementary pitted exteriors and worn edges that kind of makes each product all the more outstanding.
However, being of forged steel, it will inevitably scratch your beloved tablets and hence, Griffin proposed a case to be used with your slate when using these awesome stands. In fact, Griffin will throw in a complimentary Griffin tablet case of your choice when you purchase the Rail Slice Tablet and Rail Artifact Stand from Griffin's web store. Make sense, because these stands are not exactly economical; each of these will run you back at a cool $129.99 and being steel, we cannot imagine how hefty it is which may in turn make shipping more costly.