I am not sure why would you need a hovercraft, but I suppose if you want to own the terrain like a boss, then a hovercraft seems like a logical choice. If so, you might want to give Renegade Hovercraft a thought. Renegade, btw, is a successful line of personal hovercraft from the folks who live and breathe hovercraft, Universal Hovercraft and if you can recall, Universal Hovercraft is the outfit responsible for Flying Hovercraft which cost a mighty $190,000 when it was introduced a few years ago. The Renegade range is a little more down-to-earth, well, quite literally. It is basically the hovercraft you have come to expect, which means it will let you maneuver across land and water without the awkwardness associated with typical amphibious vehicles and as a boon, you can have a person hitching a ride with you to share the fun.
It boasts a lightweight and tough carbon and Kevlar superstructure and is push forth by a high efficiency AeroDrive propulsion system, powered by a 4-stroke engine. The newest in the Renegade lineup is the IQ, which was first introduced early last year. The Renegade IQ is capable of reaching a top speed of 50 miles an hour (76 km/h) and makes 150 miles (241 km) in range. Other standard features include gauge package (oil pressure, voltage, tachometer, hour meter), long range fuel system, carbon fiber and GRP components, cruiser windshield, LED headlight (yes, it has that too), external grab handles, lifting rings, bow and stern tow hooks, carbon storage access cover, rear view mirrors, and USB and 12V power ports.
The IQ also boasts an ultra quiet operation with noise level at cruise speed of 69 dbA (well below OSHA recommended safe hearing level), which is crucial, cos' you will want to talk to your passenger at some point in time and besides, you won't want to end up looking like a bad, rich guy that destroys the tranquil environment in the name of thrill and fun, right? The Renegade IQ is priced at $32,000, read-to-fly, well, actually more like ready-to-hover. Pretty steep, no doubt, but nobody ever says such enjoyment would be affordable. It's kind of a Scrooge McDuckian thing. There are three other models of Renegade Hovercraft to choose from too, if IQ doesn't quite tickle your fancy. They are priced ranging from $24,900 through to $34,000. So take your pick.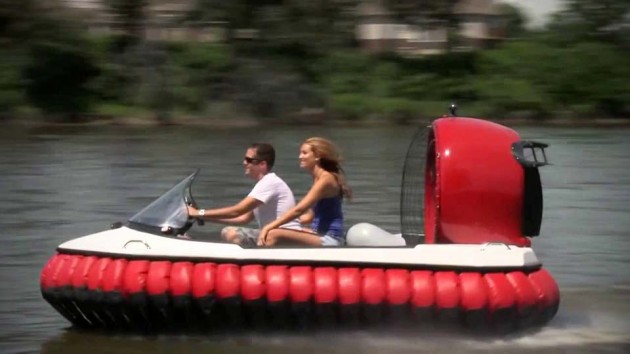 Renegade Hovercraft via Uncrate