(image credit: mike) Hard Graft iPhone Fold Wallet | €65.00 | www.hardgraft.com
Another new addition to Hard Graft's lifestyle accessory assortment is this Phone Fold wallet, designed for iPhone. Receiving the wallet in an origami inspired multifold package was a pleasant surprise. Such attention to the overall presentation was certainly appreciated. For a moment, I was actually at war with myself whether to open it at risk of ruining the envelope. My eagerness to check out the real deal eventually triumphed.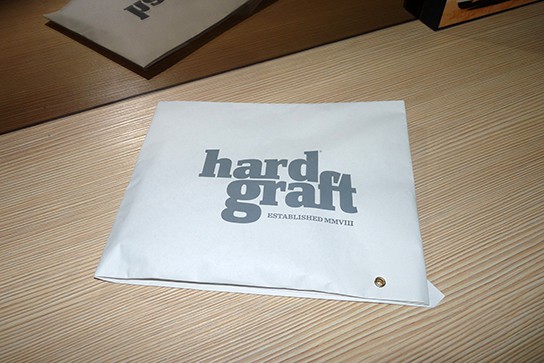 the origami inspired packaging – to open or not to open?
First thing that hits my senses was the unmistakable smell of real leather. The wallet comes in a compact bi-fold design, resembles the look of an classy italian leather card holder. The exterior is hazel brown vegetable tanned leather, while the interior is lined with soft black Napa leather. Texture-wise, it is soft to the touch and nice on the grip.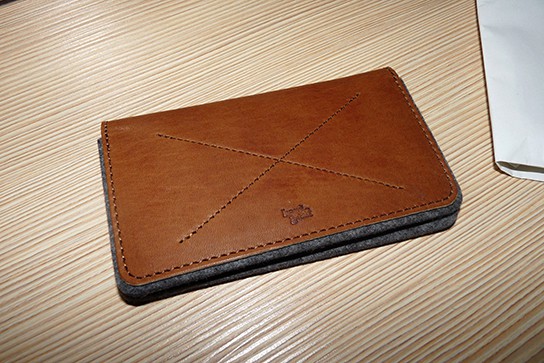 vegetable tanned leather with its natural 'marks'
The inside pockets are 100% asphalt grey wool and blends in harmoniously with the overall leather build. On one pocket, there is a sewn-on 'quick grab' pocket, which I could not yet think of any real practical use for its shallowness, except for keeping the cleaning cloth for the iPhone.

asphalt grey wool interior and the 'quick grab' pocket (on the right)
According to specifications, the dimensions are custom fit for iPhone 4, 3GS, iPod Touch. When sliding my iPhone 4 into the pocket, I found the fit very snug, to the point that there is some challenge in snapping the wallet together with the metal snap closure. The extra bulk had caused slight misalignment of the metal snaps. Then again, this experience should not be foreign to anyone who had ever used brand new leather wallets before, as the leather needs to 'condition' and stretch itself to accommodate the new bulk.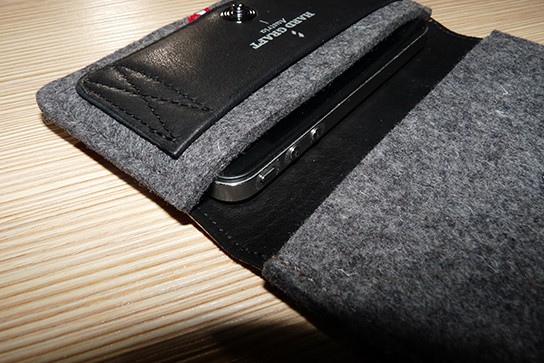 even with a naked iPhone 4, the fit is extremely snug and hard to take out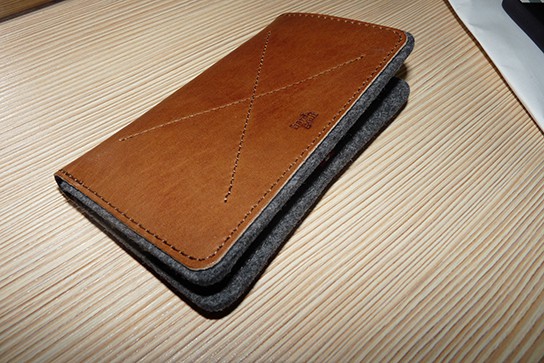 with a naked iPhone 4 in, snap-closed and the bulk. that's without cards or cash in it
To add on (no pun intended), the EggShell plastic protective case on my iPhone 4 presents additional body to my iPhone. Removing the cover and re-slipping my iPhone 4, I managed to circumvent the initial resistance to closing the wallet. My advice – if you could, shed that extra cover to create more room for the wallet. After all, the wallet already serves the purpose of protecting your iPhone – that's until you take your phone to use…
Having said that, it might still be a tad ambitious to achieve max capacity as described on the product website, claiming that it could fit up to additional six cards and some spare cash.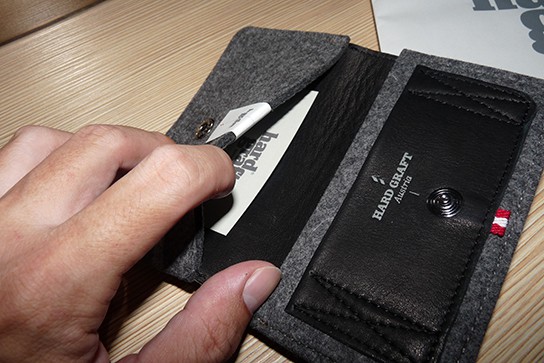 six cards and cash in this? kind of tough.
All in all, if you are tired of tacky plastic iPhone covers that are a dime a dozen in the market, and if you are one who appreciates fine workmanship and looking for a subtle statement to stand out from the crowd, then this Phone Fold wallet might just be the affordable luxury piece to adorn your beloved iPhone. Well, maybe €65.00 ain't exactly cheap, but think of leather and workmanship – it could be well worth it.