Pocket Classics Miniature Classic Cars | from £6,995 | www.pocketclassics.co.uk
(image credit: Pocket Classics)
there is just something fascinating about miniatures. if you were fascinated by the VW mini-Gol, but fret that you would never able to drive it, let alone fit into one of those. no worries. we always have the Pocket Classics Miniature Classic Cars to satisfy the need for miniature automotive. over at Pocket Classics, hand building miniature classic cars is what they do.
[ad#Google Adsense-text-468×60]
currently, there are five beautiful half size classics to choose from: Bugatti Type-35, Mercedes 300SL, Jaguar E-Type, Willys Jeep and the Porsche Speedster. four models, namely, the Speedster, E-Type, 300SL and Jeep are powered by 110cc four-stroke air-cooled petrol engine, and with the Speedster, E-Type and 300SL having a top speed of 74 km/h (46 mph). except for the Jeep, all other petrol engine models has an electric variant with a top speed of 22.5 km/h (14 mph).
all miniature petrol engine models feature semi-automatic three-speed forward gears plus reverse and has twin rear disc brakes. there are no suspension for the petrol engine version, so there's no telling of the comfort level, especially when its going at 74 km/h and i can't imagine how the rear-only disc brakes would react to that kind of speed. the electric version defers in terms of single forward speed plus reverse, rear drum brakes and it gets fully independent suspension system. however, ride time is limited to an hour forty minutes on a single 1-hour charge.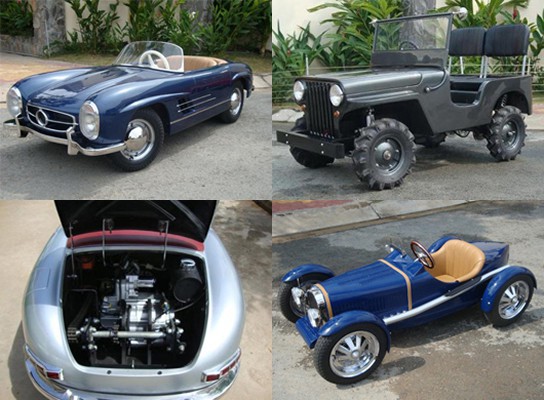 (image credit: Pocket Classics)
the Bugatti Type-35 comes only in electric version and it only suits kid of age four to twelve. however, there's an option to add a rear seat for an adult to accompany junior on his or her 'racing career'. all models feature working lights, indicators and horn. another interesting note is that the Jeep actually seats two adults, while the rest of the models allow only one. pretty cool. want one? well, for between £6,995 to £9,995 you can get yourself one without much dreaming. that certainly beats paying £200,000 for the original thing.
via AutoMotto