If you drive a Rolls-Royce, chances are you are up for the finer things in life. Finer things such as a good class of cocktail, perhaps? And if so, you will be elated, if overwhelmingly impressed, by the British luxury car maker's Cocktail Hamper. While it is called a 'cocktail hamper', it is really a very lavish portable cocktail bar. Coming from Rolls-Royce, you can be assured that no details are spared, including subtle connection to the automaker's rides. Nope. There the box isn't in the shape of Rolls-Royce motor car's front end, though that will be super cool.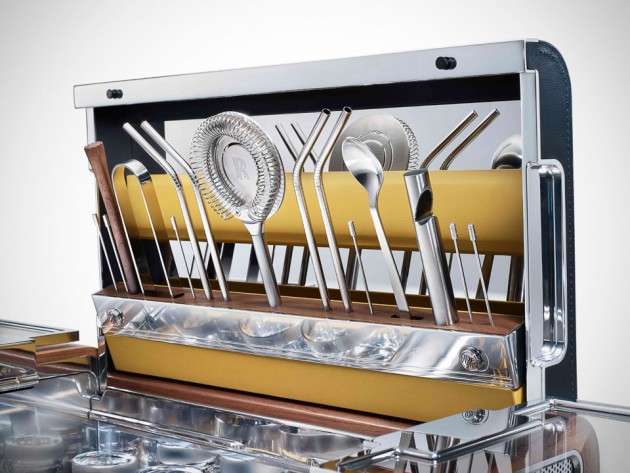 Designed by Rolls-Royce Accessories designer Sina Maria Eggl with appropriate advises from experts such as Dorchester Collection's London Hotels, the hamper is meticulously handcrafted over a period of eight weeks from American Walnut Wood and the finest Natural Grain Leather that adorn the interior of some Rolls-Royce cars. The Navy Blue leather-bound lid of the Hamper opens up to reveal an accoutrement of cocktail implements necessary for creating the perfect cocktail. Rolls-Royce's mantra of form and functionality applies here too, with aesthetic and practicality going into each and every piece of hand-made bespoke implement.
Other worthy mentions include a magnetically housed paring knife, automatic integrated light, mirror surfaces to replicate the aesthetic of a luxurious cocktail bar, a glass tray, integrated wooden chopping board, discreet drawers and platinum rims glassware as provided by Europe's most revered glassmaker, Theresienthal. Each Rolls-Royce Cocktail Hamper will also come with a book packed with cocktail recipes inspired by the marque's extraordinary heritage. Only 15 of such exquisite examples will be produced and interested customers can acquire one through the marque's 130 dealerships around the world. And the price? A grand $46,328 (£26,366).