Rolls-Royce has a quite a close and illustrious relation with watercrafts, and among the many, it was the power responsible for driving Sir Malcolm Campbell's Bluebird K3 through a waterspeed record of 126.33 mph on Italy's Lake Maggiore in 1937, and subsequently racing to 130.93 mph, still with the K3, at Lake Hailwil, Switzerland in 1938 and in 1939, clocking in at an amazing 141.74 mph with a K4 at Coniston Water. the Rolls-Royce Phantom Drophead Coupe Waterspeed Collection is the car specially crafted to pay homage to those remarkable acts by Sir Malcolm Campbell. inline with the Waterspeed Collection and the spirit of Bluebird, this latest Bespoke Collection from the British luxury marque wears a specially developed 'Maggiore Blue' paint job which has nine layers of paint on it, prior to being hand-sanded and powered lacquered.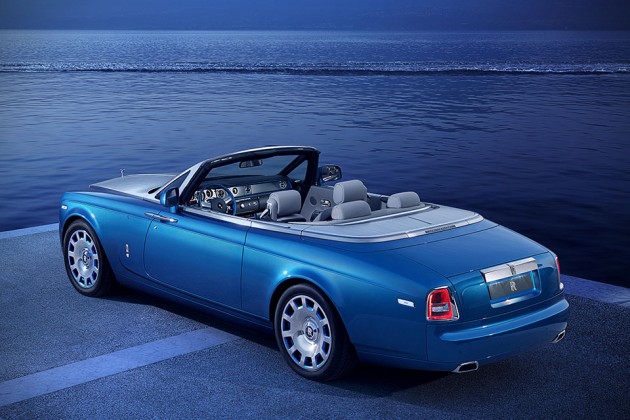 the Bluebird color continues into the cabin and also for the first time in the firm's history, this beautiful exterior finish extends to the engine, the specially developed polished eleven-spoke wheels and continues into the cabin, adorning the two-tone steering wheel and as accents on the dashboard. brushed steel takes the place of the traditional teak decking at the rear which took over 10 hours of hand-brushing and in our humble opinion, looks completely stunning with the Windchill Grey interior leather. further attention to detail can be found on the door armrest tunnel caps, featuring hand-engraved Bluebird motif, which again, took several hours to complete. Abachi wood can also be found in the interior, bookmatched at an angle to echo the wake left by a boat moving at speed.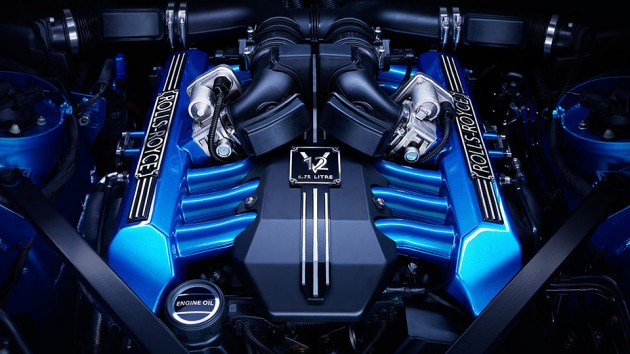 finally, the attention turned to the instrument cluster where an iconic 'power reserve' dial can be found with blue and yellow zone and a bespoke front-lit clock featuring Bluebird's infinity emblem and billet aluminum dials, hinting its K3 inspiration. the Rolls-Royce Phantom Drophead Coupe Waterspeed Collection made its debut at an exclusive event on the site of the original Bluebird Motor Company in London and subsequently, at the Concorso d'Eleganza Villa d'Este at Lake Como.