If the lack of visual cues on an induction stove has been stopping you from diving into one, then perhaps, Samsung's new Slide-in Induction Chef Collection Range with Flex Duo Oven (with a ridiculously long model number, NE58H9970WS) can help. The problem with induction stove is obvious. There are no flames to cue if it is on or how hot it is getting. With the Samsung's latest induction range, it solves this minuscule 'problem', but no less nagging issue, with what the South Korean electronics giant called "Virtual Flame Technology". What this technology does, is basically adding a set of blue LEDs embedded below the glass cooktop and around the perimeter of the burner that will cast fake flickering flames onto the side of the pots and pans.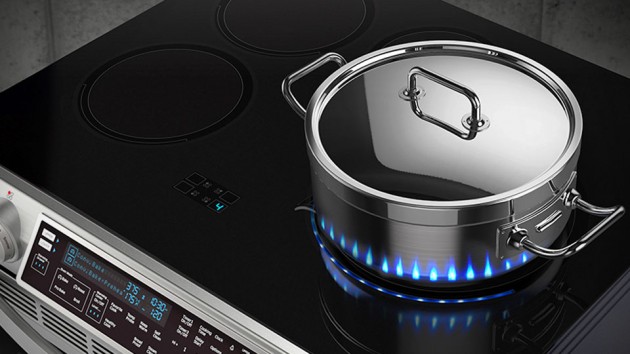 This virtual flames serve as a visual cue that the stove is up and running, and these flickering "flames" will actually grow bigger or smaller as you crank up or down the heat, so you know roughly the level of heat. The benefit is pretty obvious here; It takes the guess work out of the equation when cooking on an induction stove and it won't ever be blown out by a gust of wind rushing into your kitchen. It is almost like having the best of both worlds: the visual reference of the flames of a gas stove and the benefits of energy efficiency, consistency and safety of an induction stove, though it might not be so true if you are cooking Chinese meals.
In addition to the innovative lighted induction surface, there is also a clever oven buried below it. This oven offers a generous 5.8 cubic foot of space and features a removable divider that allows it to be split up into two levels for cooking two different dishes at separate temperatures simultaneously, possibly to help you push out the dishes at a slightly faster rate since it cuts the queuing by half. Apparently the 'smart divider' creates a tight seal, so the aroma of two dishes won't intrude into each other that would otherwise mess up the flavors. While the technology built into the Samsung Slide-in Induction Chef Collection Range with Flex Duo Oven sounds like a dream kitchen gadget, it does come with a premium sticker of $3,699. Ouch. Well, I guess the stove might not burn you, but the price tag certainly will for most people.