The beast you see here, dubbed Sin City Hustler (aka Extreme Excursion Limo Monster Ride Truck), will make taking stretch limousine to prom night so passé. Even the name itself speaks of cool, well, that's if you don't associate the word 'hustler' with anything bad, or Larry Flynt (regardless, it may not go down well with your teachers). Though it probably don't have the 'amenities' like those 15 bucks an hour per pax stretch limousines, but who cares when you're traveling in a 12 feet tall monster truck that stretches 32 feet long? Heck, your limousine driver don't even need to conform to paved roads cos' we are quite sure Sin City's Ford 521CI (8.2L) big block motor that kicks out over 700 horses and its custom C6 shorty transmission, along with four wheel steering and four wheel drive can handle just about any terrain you can throw at it.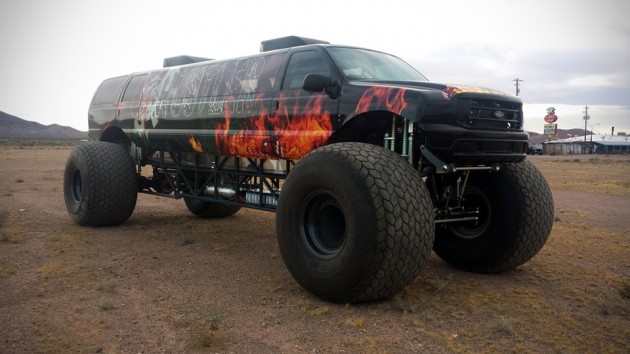 If those aren't enough, perhaps the monstrous 66" x 44" x 25" tires paired to 26" nitrogen shocks will provide further assurance that this thing can and will crawl over anything. This monstrosity of limousine features a fiberglass Ford Excursion body that sits on over 1,500 feet of 2" Dom tubing and weighs an astounding 15,000 lbs (6.8 tons!). Other worthy mentions include a wireless remote controlled custom hydraulic rear door with integrated steps, 12 race bucket seats complete with aircraft style seat belts (driver gets a center race bucket seat), four full functional doors with working power windows, dropped aluminum diamond plate aisle floor for ease of ingress and egress, and a host of one-off billet parts.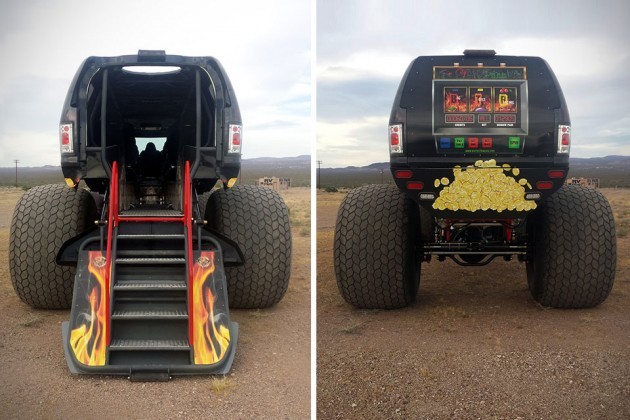 We heard the truck was originally built as an off-road thrill ride in the desert near Big Toyz Racing's HQ, but it is now put up on sale for $1 million. So if you are interested, you may want to get in touch with the folks over at BTR asap cos' this is the only one in existence. The Sin City Hustler Luxury 4×4 by Big Toyz Racing is not first 'retried' thrill ride monster truck we have seen put on sale. More than a year ago, we saw one that has a 74' Bell helicopter cockpit for cabin going for sale for $600K. Check out the Sin City Hustler in action in the video below.