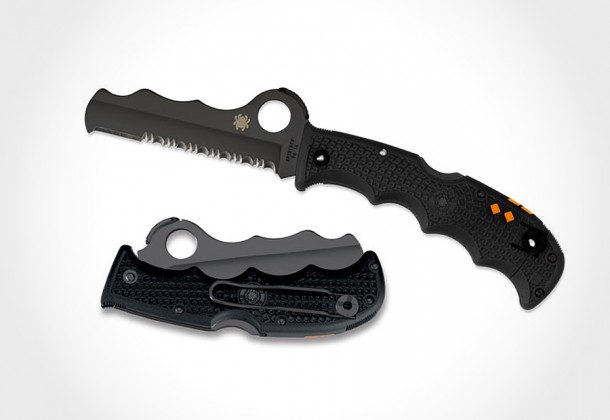 Spyderco Assist Black Blade | US$149.95 | www.spyderco.com
we classify Swiss Army knives as peace time tools – one that let you ponder over whether to open a bottle of Chardonnay or a can of Heinz baked beans. however, some knives, though lacking the multi-tool capabilities, have an even more meaningful purpose and would consider a must-have tool for just about anyone who wants to be prepared for the worst case scenario. the Spyderco Assist Black Blade is one such example. it is knife designed with firemen and rescue professionals, or as said, anyone who just want to be prepared and it features a blunt tip which ensures that nobody gets injured accidentally in the process of rescuing. if you can't imagine how the blunt tip going to work out, just simply imagine being tied to a car seatbelt and trying to free yourself with a regular pocket knife. yeah. you get the idea how dangerous a sharp tip is going to be, doesn't it?
another interesting feature is a metal cap that help guides your thumb to the hole, where the latter enables you to open up the knife single handedly – an important feature considering that in an emergency situation, we might not have both hands free to do what needed to be done. the wavy pattern on the top of the blade and the handle not only allows for comfortable grip but they also enables you to execute a controlled rope cutting with just the knife partially open. basically, it will assist you to snip of the rope much like a guillotine. other features include a retractable carbide-tip glass/ice breaker that can be activated by squeezing the closed blade into the handle and a high-pitched whistle built into the butt end helps to get you noticed. so, as you can see, the look can be deceiving. despite not sporting multi-tools, the Spyderco Assist Black Blade turns to be a lifesaving tool. and not only that, its non-reflective, black carbon nitride-coated and all-black design only adds to its desirability.
the Spyderco Assist Black Blade can be yours to own for $149.95.