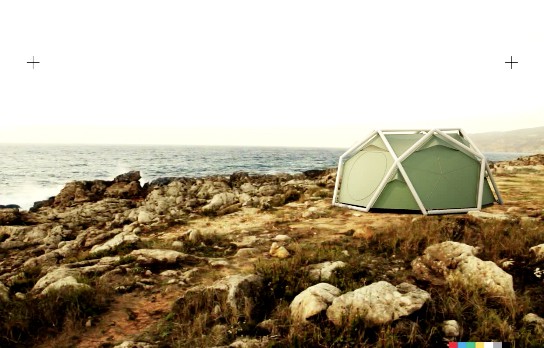 (image credit: HemiPlanet) HemiPlanet Tent | US$tbc (concept) | www.heimplanet.com
campers would have noted that over the years, tents haven't really evolve much but it would, if this concept pole-less tent from HemiPlanet becomes a reality. structurally, it may not be ground-breaking but its the innovative structure design that makes it different. the HemiPlanet tent has inflatable diamond grid structure with the grid being double layer airbeams divided into five major sections after inflation. makes sense, as you don't want any puncture to bring down the whole tent.
the main grid is reinforced with polyester encasing which offers the structure the protection and extra stiffness required. the round base gives the tent structure more room, fitting up to six person seated or three, sleeping side by side. no further details are available at this point, except that this tent can be set up without assembly in under a minute. i suppose an air compressor would be required, else it should be using some air-release canister or the likes to inflate it.
anyhow, it looks cool and departs generally, from today's tent design. it would be nice if it is light weight and all packed in for a 'one button' release where the tent will inflate itself and ready for use. wrapping it up is altogether another matter. we shall worry about that when its time for us to hit the track again. we also note that there should have some form of anchor if we were to use this tent in area as pictured in the video below (1:12). else it might just be gone with the wind before we know it.
via Core77