the electric car the world has been curiously looking forward to has finally unveiled. we are talking about is Tesla's new S P85D. the 'D' there stands for dual-motor, each driving a pair of wheels, effectively making the P85D an all-wheel drive electric performance car. and the numbers? a combined 691 crazy horsepower (221 front, 470 rear; so it is rear-biased anyways), 155 mph (249 km/h) top speed, 275 miles (442 km) of range for the light footed, and a supercar-chomping 3.2 seconds century sprint. the P S85D is juiced by 85 kWh battery pack.
performance aside, another highlight of this superlative EV is what the Silicon Valley-based outfit called "auto-pilot", which is essentially a semi-autonomous system made possible by a forward-facing camera and radar that allows automatic lane change just by flicking the blinker. additionally, the camera is able to read the speed limit signs and adjust the speed accordingly, and of course, stopping as the front vehicle stops. it is safe to say the Tesla S P85D has kind of beaten Google to the autonomous car race. note, we said "kind of", because for now, this is as close as you can get to a self-driving car, but i am pretty sure no one is about to let the car take them for a ride when you have 600+ hp at their disposal. we could be wrong though.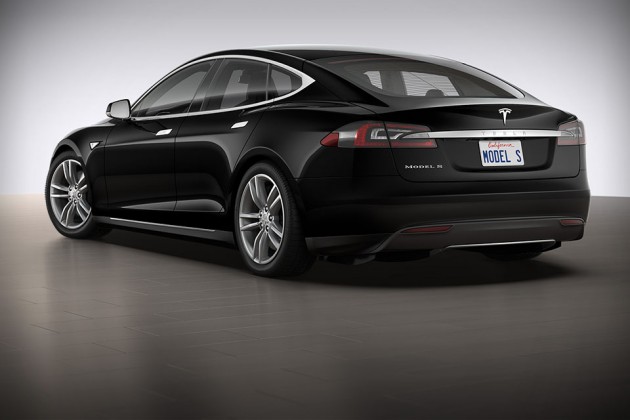 along with the range-topping S P85D, there is also an entry level 60D, juiced by 60 kWh battery pack, giving it 225 miles range – if you steady on your right foot. the 60D's dual-motor develops 376 hp in total (188 hp from each motor) and takes it from 0-60 in 5.7 seconds, sending it on its way to a top speed of 125 mph. those looking for range, but not quite concern with sprinting, there is the mid-range S 85D that packs a 85 kWh battery pack that allows it to travel out to 295 miles. the 85D shares the same power and performance with the 60D, but has a higher top speed at 155 mph and supercharging comes as standard, as opposed to 60D, which is optional. supercharging as in, super quick charging. i am sure you know that right?
price wise, the entry level 60D starts at $75,070, while the mid-range 85D goes for $85,070. the top-of-the-line P85D, on the other hand, cost a $14,600 premium over the 85D.