If you ever come across someone's Instagram photo with a potted plant like the one pictured above with the tagline 'yummy' or 'delicious', don't be too quick to think that person is some whack job because that 'yummy' pot of plant could be The Harvest, a novel dessert serves up by Spot Dessert Bar in New York City. This tongue-in-cheek dessert is intentionally made to look like a mini potted plant, but instead of shoving soil and non-edible greens into your throat, you will be chumping down layers of berries, soft cheesecake, meringue kisses with crunchy chocolate pearls and generous amount of Oreo crumbs (the 'soil') that fills both the bottom and top of the pot.
Basically, The Harvest is a chocolaty, sweet delight, served with raspberry foam and raspberry sorbet, along with more Oreo crumbs. We heard it tastes even better if you 'water' it with the dessert bar's black rose milk tea. We can't say for sure as we have not tasted it. According to some Facebook users, this concept is not new; someone, somewhere has done it at home and something similar was served somewhere, complete with gummy worms. Edible ones, of course. As far as we are concerned, this is something new and novel even though it has been around since 2014 but you should pardon us as we are pretty much mountain dwellers.
Anywho, if you keen, you can hit up Spot Dessert Bar, located at 13 St Marks Place, New York, to check it out yourself. Don't need to invite us, because we hate flying.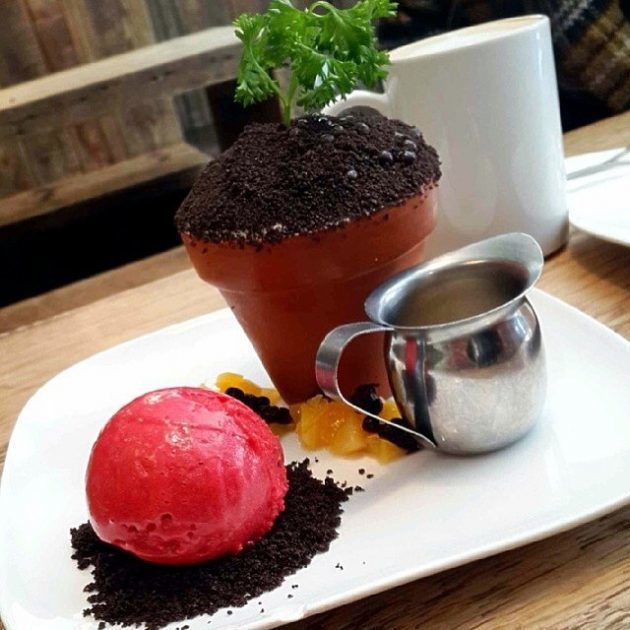 Images via Spot Dessert Bar.
via Food Insider