The mention of skateboarding video games, the first video game to come to mind is probably Tony Hawk's Pro Skater. It is like the gold standard in this genre which has a complex gameplay. If you prefer this extreme sport without a rocket science gameplay, then you may want to check out this upcoming skateboarding game, The Ramp.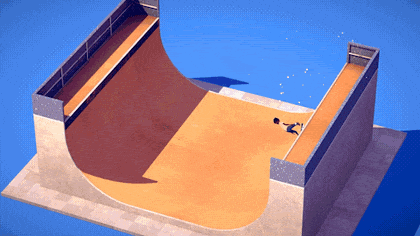 Developed by Paul Schnepf aka Hyperparadise (co-founder of Grizzly Games, makers of Islanders and Superflight), The Ramp is a minimalistic skateboarding game that captures the spirit of skateboarding without "extra fluff".
Schnepf described The Ramp as a "digital skateboarding toy" and it probably is because, the first time I look at the screenshots and trailer, finger skateboarding came to mind.
Here's what the game is about:
"Chill out, do tricks, and look damn cool. In The Ramp, players must focus their energy and go with the flow, listening to a chilled-out soundtrack as they roam free across four wildly different levels – from a simple halfpipe to a multi-story jump ramp."
Unlike regular games, The Ramp has nothing to unblock, kill or collect. It really is a skateboarding game in its purest form. If you're game for this unique, purist's skateboarding video game, be sure to catch it on Steam where it will be available on August 03, 2021.
Skip past the jump for The Ramp trailer.
Images: Paul Schnepf.