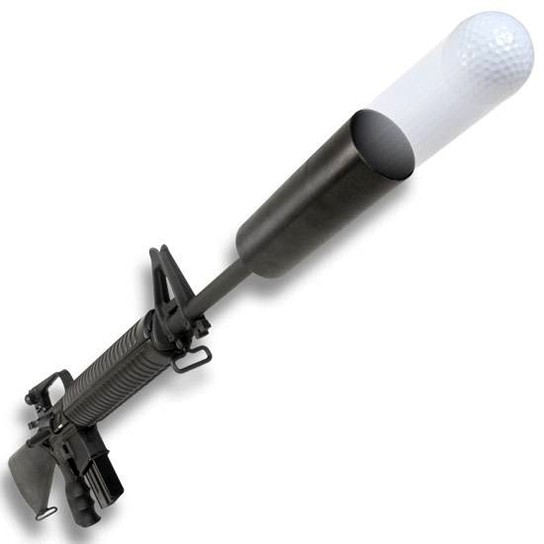 (image credit: Cheaper Than Dirt!) AGOLF AR-15/M16 Golf Ball Launcher | US$19.97 | www.ncstar.com
i'm not sure what went through the mind of the inventor of this golf ball launcher. perhaps, the ammunitions price just skyrocket and these guys decided to put their assault rifles to good use or may be it is for venting their frustration over the game of eternal frustration? check out the web store description cum disclaimer:
[ad#Google Adsense-text-468×60]
Works on most AR-15, M4, and M16 rifles; replaces your muzzle brake or flash hider. Machined out of solid-stock steel, shoots golf balls over 250 yards using .223 BLANKS (BAM-006), do not use live rounds. No gunsmithing required. WARNING: All rules of firearm safety apply. Misuse of the golf ball launcher is potentially dangerous, and it is not a toy.
time to dump your driver and hit the green or driving range with your assault rifle. i'm sure this is going to turn your driving range into a golf ball shooting range. well, what can i say? golf is never going to be the same again. there's just one more thing… i can't help but to wonder about the statement "misuse of the… is potentially dangerous"… so what exactly is the proper or recommended usage?
the Golf Launcher is a product of NcSTAR, a gun accessories maker based in California. having fun with your AR-15/M16 Assault Rifle, other than killing and maiming is just under $20 and is available at Cheaper Than Dirt! web store.
via Geekologie