Lets face it. However you try to up the firepower of your NERF guns, nothing will ever beat the barrage of Rival foam balls like a minigun does. Mini, what? Yes. You freaking heard that loud and clear. A NERF minigun. Obviously, Hasbro did not and probably will never roll out a NERF version Gatling gun, but someone actually did and that one person is YouTuber Captain Xavier. With the help of a few YouTubers, Captain Xavier has DIY-ed a NERF Rival Minigun that looks as good as it functions. Yes. It is totally functional, which makes it an awesome cosplay accessory too, as showcased by the man himself. Man, the getup is absolutely stunning.
This awesome one-of-a-kind NERF Rival Minigun started its life as an Air Warriors Punisher Gatling Punisher. It was heavily modded and rigged to a 'photon' backpack where an ammo and a motor and battery pack, which enables the automatic feeding, calls home. What makes this build so brilliant is, Captain Xavier goes beyond making the foam balls-firing gun work, but it also went to length to make sure everything, including the "photon" pack looks the part. Anyways, the end result is a DIY NERF Rival Minigun that's not look absolutely fabulous, but also functional.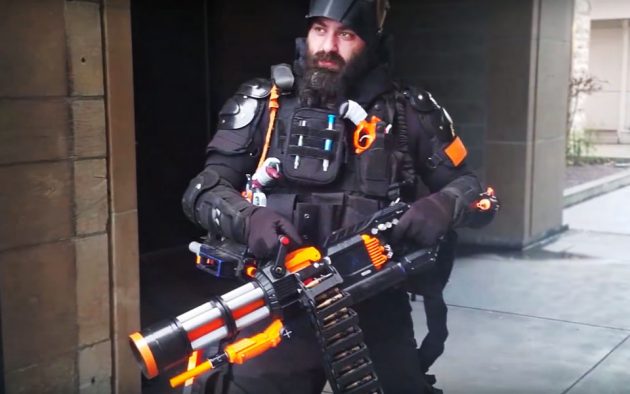 Speaking of functional, this thing is capable of spitting out 20 rounds per second and the "photon" back has a tank which Captain Xavier reckons could contain 2,000 or more rounds. As if that's enough, Cap also added a rocket launcher to it. Now, that's some serious NERF firepower! Skip ahead for the video. Jump straight to 18:13 for the firing demo if you do not want to the details. But, if you will want to see the entire video if you want to build something similar yourself because Captain Xavier will not provide any build guide, nor will he do any commission build.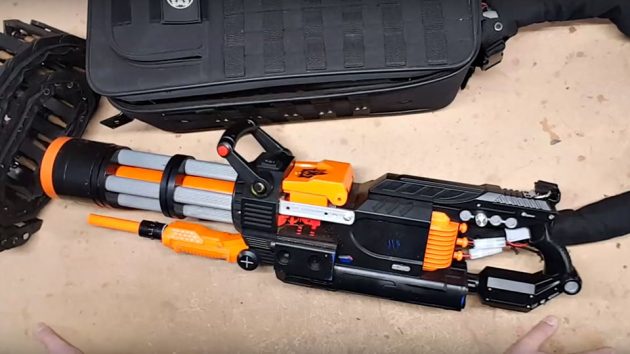 Images: Captain Xavier via YouTube.
via YouTube.