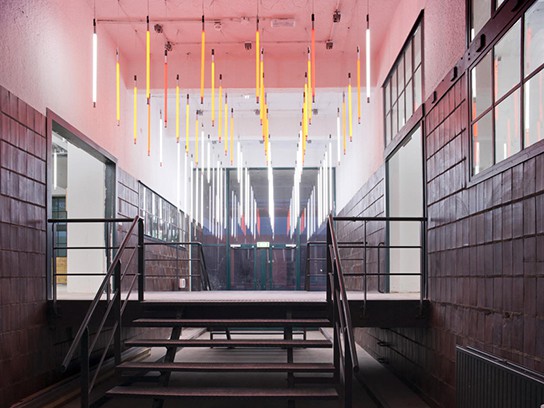 (image credit: Doepel Strijkers Architects)
we hardly post anything on interior design, but we shouldn't shy away from this subject, which is after all, part of an architecture. here's one impressive interior conceived by Holland-based Doepel Strijkers Architects to kick start our foray into interior design column. the subject in question is the HAKA Building, a pre-war factory which Doepel Strijkers Architects was task to convert into a "clean tech living lab" for eco-friendly water and energy institutions. the result is this stunning ultra-modernist, contemporary and eco-friendly interior.
in an effort to reduce wastage in terms of energy and transportation, both in financial dollars and environmental point-of-view, all materials used for the interior build-up are sourced locally. the team even went to the extent to savage materials from demolition sites such as those doors that were used to form the meeting room. the list of recycled materials-based furniture and decors are certainly impressive: recycled wood and planks sculptured into seatings and stage, recycled doors transformed an otherwise open space into an unique and uberly-cool meeting room, and check this out – a colorful and flexible acoustic wall created out of 17,700 pounds (about 8,000 kg) of old clothing. it is truly a sight to behold.
putting up all these together is a group of ex-convicts under professional guidance. the ex-cons provide a source of affordable labour, and at the same time, injects a sense of social consciousness into this eco-centric project. we are extremely impressed and we are sure you would too. check out more awesome images of this interior design work below and also note my personal favorite – the vertically hanging fluorescent light tubes.
via FRAME