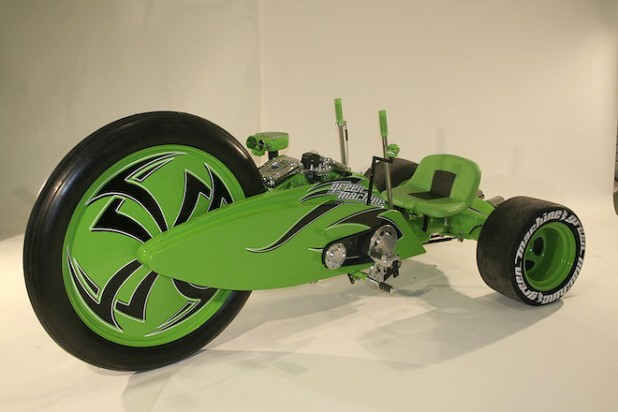 everyone has a kid in us. even as grown ups, we sometime long for the things we had as a kid. sadly, some of those things will not fit us anymore. take for example, the big wheel Green Machine. i suppose, we could still fit into one of those now but it wouldn't be as much fun because of our larger size and a heftier weight. well, the folks over at Parker Brothers Choppers has an answer for the kid in all of us: a grown-up version of the Green Machine.
this mean, green machine is covered in the familiar Green Machine paint job and sports a humongous 45-inch front wheel and just like the good old kid's Green Machine, it steers from the rear via the use of stick shifts. pretty wild, huh? according to Parker Brothers' Jeff Halverson, this upsized version with an 80-cubic inch (about 1,311 cc) Harley-Davidson Evo engine is good for 50 mph. Parkers Brothers Choppers is perhaps more notable for its real working custom Tron Light Cycle and the Green Machine has once again put them in the spotlight of the custom chopper world.
no word on if this awesome machine will be put up for sale. if you are keen, perhaps you can drop Parkers Brothers Choppers a note to express your interest.
via Wired