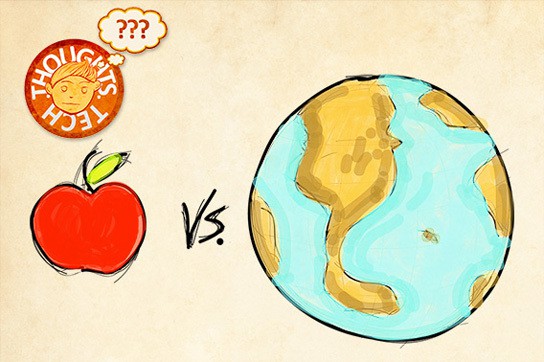 (graphic by: mikeshouts.com)
why iPhone vs. the world you may ask. the reason being, the smartphone segment can't help but to compare themselves to an iPhone whenever a smartphone is being launched. never mind the fact that iPhone could be already been a year in the market (e.g. 3G & 3GS), they will still be making the comparison anyway – both critics and manufacturers alike. to the smartphone market, iPhone seems to be the benchmark. i know you critics would fervently deny this, but let's face it – this is the fact. let's talked about the anti-iPhone sentiment first. so why the hatred, so to speak, about Apple's smartphone? ok, maybe 'hatred' is a bit of a strong word to use, but it certainly sounded that way. in fact, it is not just about iPhone, it is everything about Apple that some dislikes or even hate. maybe it is the green eye monster that is doing it's bidding in them?
i read an article a couple weeks ago in a local technology news, entitled "Bad apples – but some will still bite them." the author wrote about Apple's 'flawed' ('flawed' as in his perspective) products, namely iPad and of course, the iPhone 4. i will touch on what was it about iPad that he didn't fancy but first, on with the iPhone 4. every products almost certainly will have its flaws, let alone a smartphone. ever since the launch of iPhone 4, they has been reports of 'defect' with the phone, such as the blue tint effect, flawed retina display and most notably, the antenna issue. so it was not a surprise to note that the author brought the iPhone 4 antenna issue up. quoted from the article "There is no problem, as some iPhone fans have told me. Just buy a case, problem solved." and he went on with "such forgiving rational and practical minds of Singaporean consumers which I have grown accustomed to."
majority of users will have a case on their iPhone, which explains the huge variety for iPhone cases ever since iPhone 3G. never in history have we seen such a huge variety (brands and designs, materials included) of cases (& accessories) for a single product. before the days of iPhone, users hardly don up their mobile or smartphone with anything but the factory provided case. or maybe some cheap dust-magnet silicon skins. so am i an Apple fanboy trying to justify a flawed product? i hardly think so. i was well aware of the antenna issue. i weighed the (probable) issue(s) with other factors. factors (or specs) such as faster processor, high resolution IPS display et cetera and made an informed decision. i am a big fan of beautifully designed stuff, but the decision to move from 3GS to iPhone 4 is not solely on design, because i knew that i would probably have a case over the iPhone anyway. and mind you, it was not the case of 'just get a case'.
back to the article that i talked about earlier. the author wrote about 3G version of the iPad being, in his own word "gimped". as you would have guessed they were about (1) low-res YouTube clips on 3G but high-res clips on WIFI; (2) 3G can't download apps larger than 20MB. i was baffled on why these were even brought up. first of all, consumers were given choices: 3G+WIFI or just WIFI enabled iPad. it was a decision made with understanding of probable limitations of wireless connectivity. secondly, 3G gives freedom to connectivity and the 20MB restriction is only a rule applied to 'apps'. in the event you're in need of connectivity, and there's no WIFI, 3G connection is your only savior, even if gives you low-res. last check, email and websites doesn't come in high-res. thirdly, both 'issues' 1 & 2 is to safe-guard users and to some extent, probably Apple themselves. without the restriction, some users may run the risk of overusing their data plan, which potentially could be hundreds of dollars in extra charges. remember that not all users are on unlimited plans. seriously, i never thought the above-mentioned 2 points were an issue. do you?
ok, maybe it's more than just iPhone vs. the world – it's probably Apple vs. the world. if a product hits the community beyond the current Apple's domain (i.e. Mac users) and 'intrudes' into the 'mass' domain (i.e. more consumers) than it is sure get of attention and probably wakes up some green eye monsters in the process.