During this year's Tokyo Motor Show, Toyota showcased numerous gorgeous automobiles, but there's a little gadget that actual stole the limelight, and possibly, the hearts of many. The gadget in question is not quite a gadget; it is actually a robot, a miniature version of the robot Kirobo that stationed onboard the International Space Station for 18 months. This smaller version of the astronaut robot, appropriately named Kirobo Mini, won't be heading to the space; instead, it will do what Sharp's RoBoHon does, but tailored for drivers.
Standing an adorable 100mm tall and weighing no more than 200g, Kirobo Mini is a driving companion equipped with voice and face recognition features and capable of conversations and gestures much like a real person. It is designed to sit in your vehicle in places such as a cupholder, keeping you company throughout your otherwise lonesome journey, making sure you're awake, suggesting places to visit, propose routes to take and even music to listen to, presumably based on your mood, as it is also designed to monitor driver's emotions.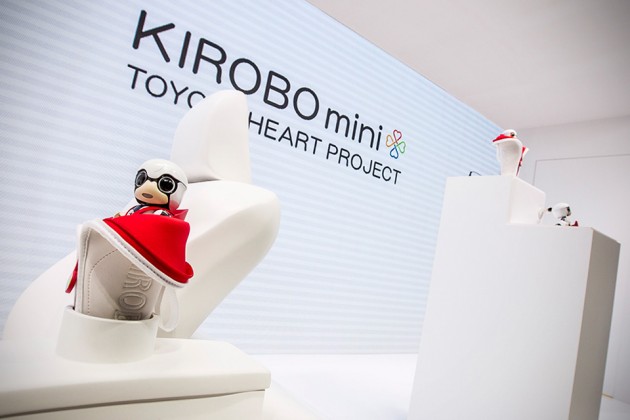 Toyota aims to collect data of drivers around the world and use it to "better the everyday lives of drivers all over the world." No words on when this super adorable robot will take on the road, or if it will ever step outside of Japan – if it ever becomes a consumer product. That said, when it becomes available, we suggest you keep it away from you kids, cos' the cuteness level is way at the top of the chart that your kids may mistake it for a toy you bought for them. Or if you are single, Kirobo Mini will probably help to showcase the kawaii side of you to your date.