If you don't already know, Singapore is actually pretty huge on Star Wars-fever, well, at least, on the marketing and promotion end of things, they are. Nope. Singapore 9-to-5 office folks don't go to work in Stormtrooper outfit with awkwardly worn ties and their bosses certainly don't dress like Emperor Palpatine or Darth Vader at work, but that does not mean, the fever is any less hot than the U.S. or the U.K. Over in Singapore, it has its very own Star Wars cosplay club known as the 501st Legion, and we have also seen Singapore Changi Airport Terminal 3 'invaded' by Star Wars machines, as well as fan-built giant Star Wars LEGO mural in Vivocity shopping mall, and now, commuters in Singapore will be treated to Star Wars-themed trains too.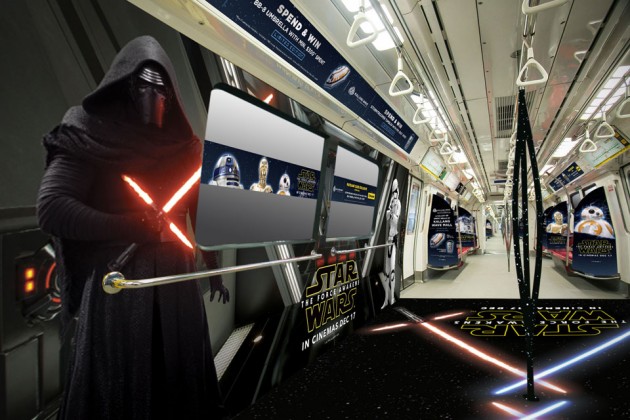 SMRT, one of the two Mass Rapid Transit operators, has teamed up with Disney and LucasFilm to spruce up the transport operator's trains with theme from the soon-to-be-released seventh Star Wars movie, Star Wars: The Force Awakens. According to the official artist's impression, part of the interior of the trains, including the side walls, the windows and vertical poles, will get a makeover with graphics from the seventh Star Wars movie. Oddly though, these Star Wars-themed trains will only ply their usual lines starting in mid-December, a couple of days before the official screening here on December 17 and not at this point where the Star Wars phenomenal is getting feverish. It also noted that trains will not go warp speed; they will still be traveling at their regular paces, less any one of them suffers a break down – again.
Anywho, in addition to the movie-themed trains, fans in Singapore can also get their hands on limited edition Star Wars premiums and collectibles over at SMRT shops, Kallang Wave mall and iMOBShop.sg, plus shoppers will have a shot in winning a trip to Dubai for the Middle East Film and Comic Con 2016 event.