There's something particularly alluring about a truck and minivan hybrid, especially when it is made for extreme driving conditions and look suitably apocalyptic, and that was probably why we are drawn to the Toyota Ultimate Utility Vehicle (UUV), a new breed of vehicle launched back in June as part of Toyota's Ever-Better Expedition experience. You won't be seeing UUVs in your local showroom though, cos' this post-apocalyptic-looking off-roader is in fact a lovechild of a Tacoma and a Sienna. In another word, it is a custom job.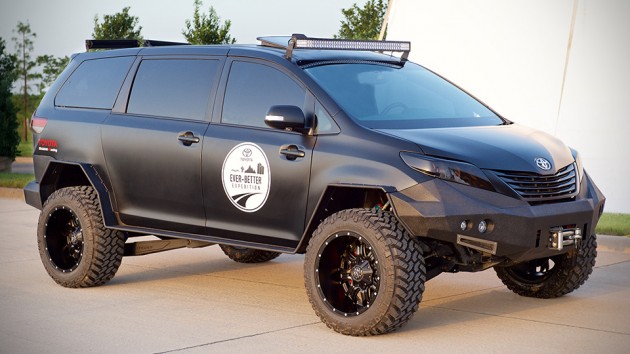 The vehicle started its life as a Tacoma pickup truck and was subsequently given some requisite upgrades to tackle the challenges posed by a variety of environments and terrains that ranges from the heat of Death Valley to icy winter roads of Alaska to mad traffic in Manhattan to climbing the legendary Pikes Peak. The upgrades include bumping the power with a Toyota Racing Development supercharger and boasting the handling with a set of 22×12 inch Monster Energy off-road wheels shod with knobby tires and upgraded Heim steering.
Finally, the custom truck is capped off with donor body from a Sienna minivan. Obviously, that once minivan body isn't quite as stock. Check out the angular, almost armor-like front bumper (with the off-road must-have winch) and the unusual wheel arch flares that extend across the length of the body to double as side steps for accessing the now-lifted ride. An LED light bar is fitted to the roof and a matte black paint job consummates the post-apocalyptic look.
The Toyota Ultimate Utility Vehicle will be part of the 14 custom vehicles appearing at the 2015 Specialty Equipment Market Association (SEMA) Show, starting today November 03, through to November 06, 2015.