You must be wondering what was going through the mind of the creators of Kangaroo Mobile Desktop Computer. I mean, there are already PCs-on-a-stick, which are definitely way more portable than a slab that's about the size of an iPhone 6s Plus. Well, how should we put it? You see, PC-on-a-stick is the bare minimum for computing and because of its tiny size, it lacks of physical interface which severely limits its usage. While the concept of going wireless is enticing and futuristic, so to speak, we still need physical interface like ports to really do some real world computing. This is where Kangaroo Mobile Desktop Computer comes in.
The fact that it is many times larger than a typical stick PC allows it to pack a decent processor and all, but more importantly, it has actual interface just like a laptop or desktop PC, including a proper power on button, a micro USB port for charging and a microSD card slot that allows you to add up to 128GB of digital space to the onboard 32GB eMMC storage. A HDMI port, a USB 2.0 and a USB 3.0 ports, along with a DC-in, can be found on the 'dock' that plugs into the Kangaroo via a proprietary 40-pin connector. If those aren't enough, Kangaroo itself even has a fingerprint sensor built into it and proper ventilation to boot.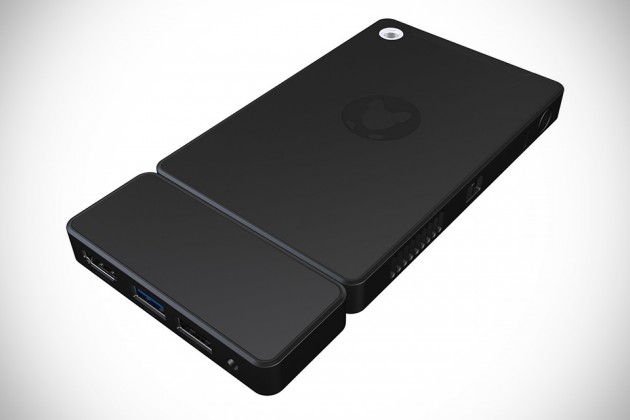 All told, the package itself measures 157.7 x 80.5 x 12.9mm (with the dock) and tips the scale at just 200g, making it a truely pocket-friendly PC without major compromises. All you need is a display to complete your mobile desktop PC setup. As for input, keyboard and mouse are not a must as it can be hooked up to an iPad, where you can use touch and gesture to go about your computing business over the pre-installed Windows 10 Home Edition. If physical input devices are required, there are always wireless option like Bluetooth and of course, the USB ports at your disposal.
Other key specs include an Intel Atom x5-Z8500 processor clocking in at 2.24GHz, Intel Processor Graphics Gen8 (shared memory), 2GB RAM, and a built-in battery pack good for up to 4 hours of 'casual use'.
If you are up for a bring anywhere PC, then head on down to InFocus (the company behind Kangaroo) website and pick up the Kangaroo for $99 a pop.
Kangaroo via Ubergizmo