With mini-PC getting more powerful and smaller, it is a wonder if there's still a place for standalone DVD/BD players. That's just a thought, because looking at what MSI's newest palm-size PC, Cubi N, has to offer, we really think things will not end up well for traditional standalone players. Heck, we didn't think media players will be spared either. Cubi N is the latest in MSI Cubi line of mini desktop PCs and it sports the new low-power consumption Intel Brawell processor – a Celeron N3150 – which sips just 15W of power. It is not a mobile desktop PC like the Kangaroo, but it is capable enough and fairly small, measuring 116mm x 112mm x 45mm.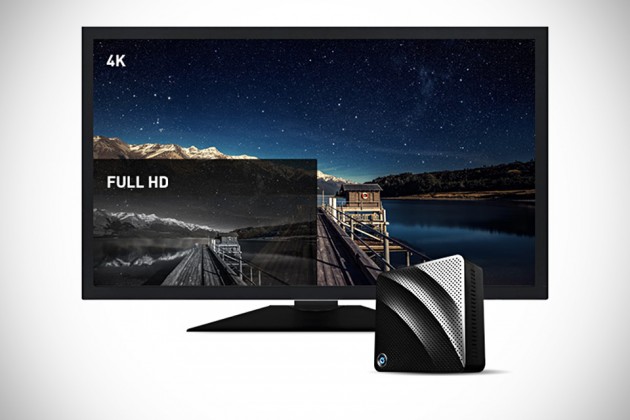 A fanless design means it will not intrude on your enjoyment as a home entertainment PC and with support of 4K ultra high-definition output, you are definitely going to use as a HTPC. It is wall-mountable and can also be fitted to the backside of a monitor via VESA mount, but with a device looking this sleek, I am sure no one will mind placing in plain sight. Right out-of-the-box, you will get Windows 10 Home pre-installed and find specs like Intel HD Graphics, 4GB DDR3L RAM – upgradable up to 8GB, and has a mSATA slot for a SSD. There is an option to combine a 2.5" SSD or HDD to bump up the storage, but that would require the bottom cover to be replaced with an extended module, which will increases the thickness of the device.
Other tech specs include 802.11ac, optional Bluetooth 4.0, a 3-in-1 card reader, four USB 3.1 ports (including one with Super Charge), one HDMI output and one D-sub-out. Looking at the specs, it can probably handle not-so-intense gaming, but we reckon MSI has movies and music at the back of its mind when they designed Cubi N. Like its predecessors, we will likely see this being sold in a couple of versions, namely barebone system and a full system complete with OS and all. The MSI Cubi N Mini-PC is supposed to be available end of October, but we dug around a bit and find nothing on the virtual shelves yet. That said, price is unknown at this point.